DTF textile pigment ink works on textile, especially on a cotton T-shirt, which is upgraded from silkscreen and DTG ink. Bright, high wash resistance, soft.
DTF pigment ink can perfectly print on cotton T-shirts, especially black ones.
And in theory, DTF printer ink can be used on almost all fabrics, cotton, polyester, canvas, denim ETC.
By dtf textile pigment ink printing, the hand feels of the printed T-shirt is soft, with good stretchability and resilience.
DTF textile pigment ink printing compares Silkscreen
There is a shortage of silkscreen printing: need to make the plate, labor cost high, speed slow, not precision, cost per color, not colorful, pollute.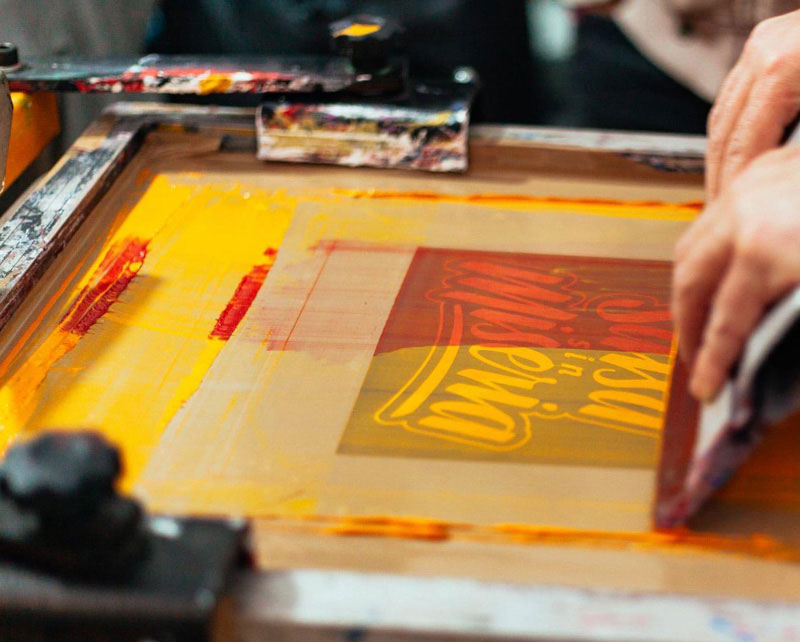 DTF textile pigment ink printing compares DTG (Direct to garment)
DTG (Direct to garment) ink is digital printing, no need to make the plate, less labor, less time cost, very precision, and more colors do not increase the cost. But the shortage is: not bright enough, wash resistance is weak.
What's the difference between DTF ink and DTG ink?
DTG pigment ink printing for T-shirts is an old technology but had not had a big market share for years. DTF technology almost solved all problems that DTG has. It solved not bright enough color, not good wash resistance.
Though the hand feel of DTF is a little bit more, it will go better if choose the best ink and hot melt powder, and it can be improved step by step.
T-shirt printing is a huge market, especially pure cotton, especially black pure cotton T-shirts (Before, no technology solved well how to print a soft and bright pure cotton black T-shirt).
DTF textile pigment ink(Direct to film)
DTF (Direct to film) ink is improved from DTG ink, it has all advantages of DTG ink, and improved its shortage. DTF ink is very bright and has high wash resistance and high scratch resistance. Only you need to choose a good quality hot melt powder and make film and powder and ink perfect matches.
SUPERINKS works out a whole solution for DTF ink and offers to match hot melt powder and PET film.
https://www.facebook.com/100003778275523/videos/2065692960233293/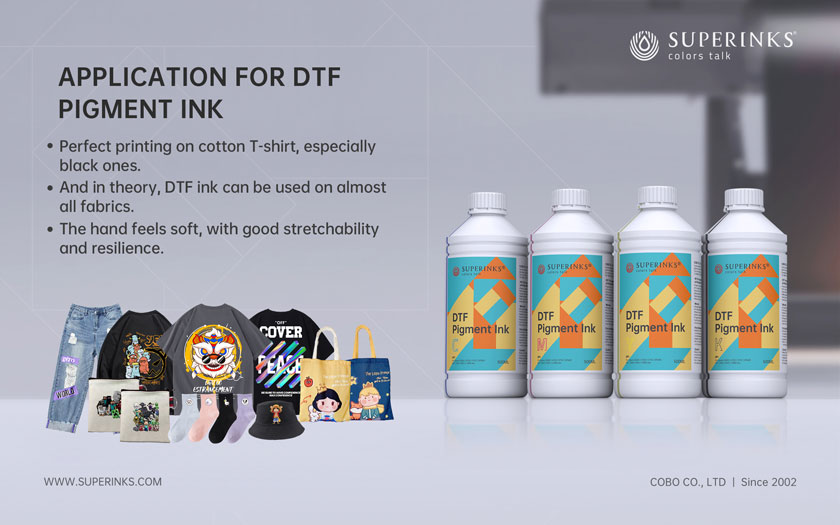 DTF pigment ink working process:
Prepare a printing film. Make sure the printing side up.
Printing colorful pictures, and then printing white color to cover the picture.
Spray hot melt adhesive powder.
Bake the hot melt adhesive to a melted state, at 80-150 C, 3-25 Min.
Heat press at 150-170C, 8-15 seconds.
Peel down the substrate.
You will get a finished product.
See related products here: