Team support 1: technical support.
The complete process – from ordering to shipping, to the division of labor makes us more professional. SUPERINKS has established a complete management system from initial consultation, program design, on-site inspection, ink production preparation, shipment to after-sales feedback, effectively ensuring the rapid and timely transmission of information, and providing professional services and support by the right people at the right time.
Enginers
According to SUPERINKS's business coverage, we have established strong engineer teams and divided them into several parts according to the businesses. Each team consists of young, middle-aged, and old engineers, fully satisfying business requirements and fulfilling talent cultivation objectives.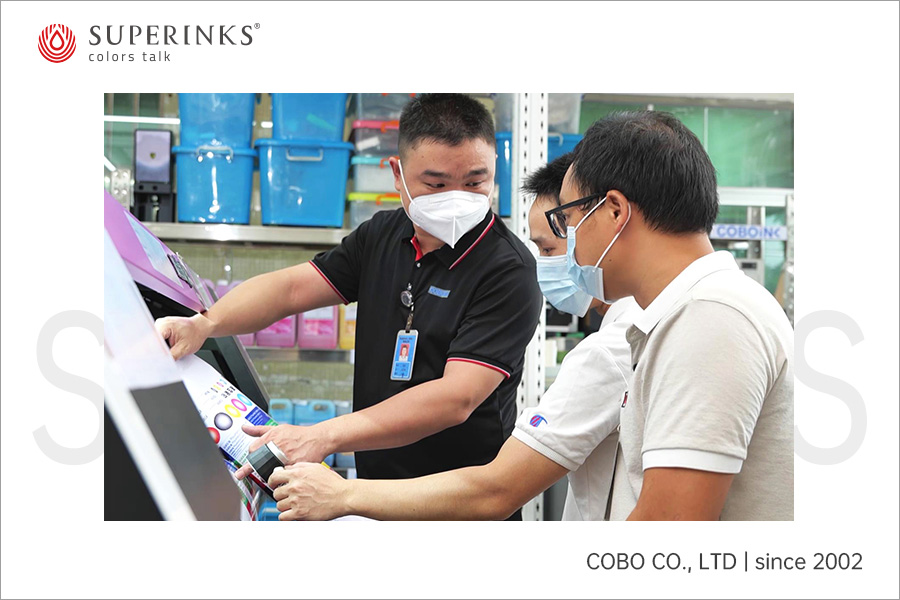 Team support 2: pre-sale support.
Salespersons
At Superinks, we adhere to the principle of providing each client with a specific design solution. Relying on the professional knowledge of the sales manager and the principle of service throughout the product life cycle, we help customers solve problems in ink procurement, operating cost accounting, operation management, and after-sales service acquisition, help customers improve profitability, and achieve sustainable business development.
Online Service Team
Wherever you are, domestically or abroad, you can contact us at any time because SUPERINKS has established an online consultation service team consisting of more than 10 persons who provide 365 days×24 hours of services for customers.
Team support 3: delivery system.
Delivery: four steps ensuring safety and efficiency of ink preparation and shipment.
(1). Checking-order
According to the sales contract, the order tracking clerk checks the models and quantities of ink and spare parts for ink preparation. Checking if all conditions can be done according to the contract.
(2). Quality test before delivery
After the ink is manufactured, the quality inspector strictly checks the quality of each batch of ink according to the checklist.
(3). Check the list of items when packing
Before packing and shipping, the order tracker will check the packaged items again according to the packing list and contract to avoid loss of items.
(4). Packaging and Shipping
We know that ink needs to be packaged securely so that it doesn't leak. Professional packaging and modular shipping solutions ensure safe and smooth delivery.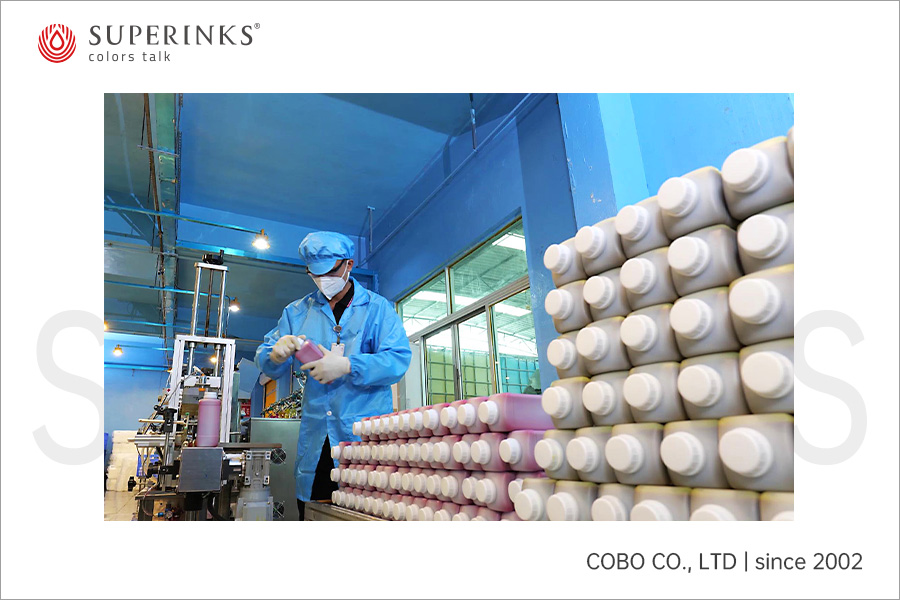 Team support 4: after-sales support.
After-sales Visit Team
SUPERINKS integrates R&D, production, distribution, and service, and attaches great importance to communication with customers. We have established a multi-person after-sales visit team. On the one hand, solve the problems encountered by customers in a timely manner; on the other hand, collect customer feedback and improvement suggestions to correctly position our development and research.
Starting the mode of the Internet of Things (IoT) to assist our customers in regular testing and commissioning, and to provide technical instructions.
Providing services covering the whole life cycle of a project, to avoid non-compliant with customers' needs, after projects are put into operation.
In our opinion, it is more important: to have strong research and technical support team and to cultivate customer professionalism to serve the market. Therefore, every customer can come to us for technical training. And we can consider sending technicians to customers for customized training sessions and establish a technician connection between us and customers. We have an after-sales service team of more than 10 people, with at least 8 years of after-sales service experience. They are familiar with every popular printhead and provide fast and professional solutions to every problem. Nonetheless, we are still expanding our after-sales support team.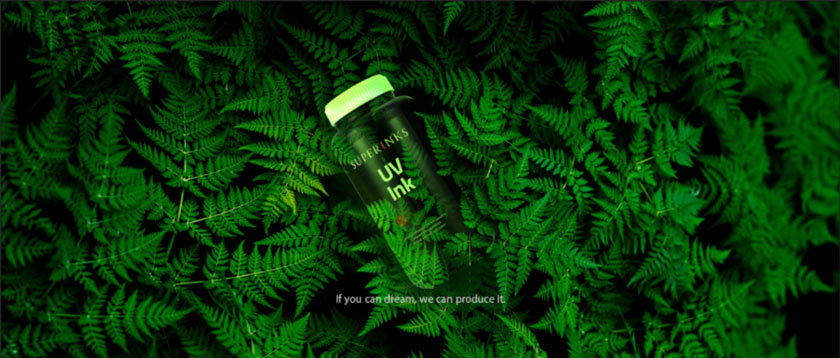 Team support 5: How did the new generation of products come about?
Listening to the voice of customers and creating value for customers is the core value of SUPERINKS. We believe that customer needs are the basic driving force of the company. This is why the company is able to survive in a rapidly changing market.
While we researched new products, which meet customer requirements, we get new generation products.