Type of business: Research, produce, and wholesale;
Main Market: US, European, Latin American, Middle East, Russia, Asia, Africa;
Brands: SUPERINKS, COBO, "库宝".
Number of Employees: 100-200 People;
Annual sales: US$10 Million – US$50 Million;
COBO was established: in the year 1990;
COBO started producing digital printing ink: in the year 2002.
1. Overview of SUPERINKS:
COBO Co., LTD, its brand name is SUPERINKS, registered in the year 1990, made wall paint firstly. Since 2002, we have been devoted to the production and development of printing ink. To improve the experience of people, who talk with colors, through our technologies, since 2013, we started to promote our own brand and provide clients with direct services. And in 2018, we built up a new factory (COBO RX CO., LTD) for water-based dye ink in Gaoyou Jiangsu to expand capacity.
Our ink products are bright-colored and smoothly printing, extending the lifespan of print heads. The ink formula is stable, widely compatible, less troublesome, less waste, and resource-saving. We try to find the best balance between price, quality, and protecting the environment. We intend to provide our customers with a safe and enjoyable experience where they can freely express, decorate or create a wonderful world.

2. SUPERINKS Head (Sales) office:
SUPERINKS' head office is located in Shenzhen- the frontier of the Chinese economy and technology. The city harbors top talents and top universities with a global business vision. We also keep exchanging and learning information from Japan and Taiwan to better predict market changes and future trends.
3. Professional manufacturer:
We built a 4943 square meters own landed factory in Zhuhai Chemical Industrial Park. Every manufacturing process is conducted under strict quality control and factory management standards. Ink is produced through automated machines in a dust-free plant. The whole production process is monitored to guarantee the quality of the products.
4. Engineering team:
Our technical engineering team is composed of middle and senior professionals, with a laboratory of 2 million yuan as a platform. They make overall planning, are responsible for forecasting future trends, developing new compatible products, evaluating the market value of new products, and comparing our products with other peers so that we can gain a competitive advantage in the market.
At the same time, our technical team also provides customers with timely pre-sales technical support, after-sales technical support, technical training, etc.
The direction of our technical team's efforts includes better product quality, smoother printing, better print head protection, more vivid colors, wider color gamut, higher precision, and longer outdoor life; Better adaptability to different materials; more environmentally friendly; more favorable prices; more advanced ink technology to promote the development of print heads and other machines.
5. Mission about SUPERINKS: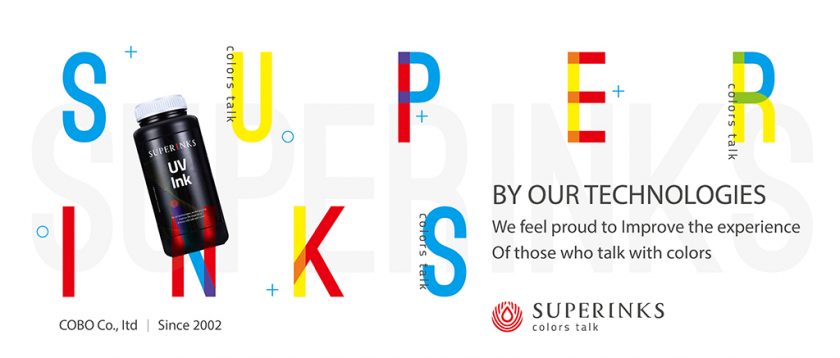 6. About SUPERINKS value:
Listen to customer requirements, and create value for customers.
To embrace and guide updates.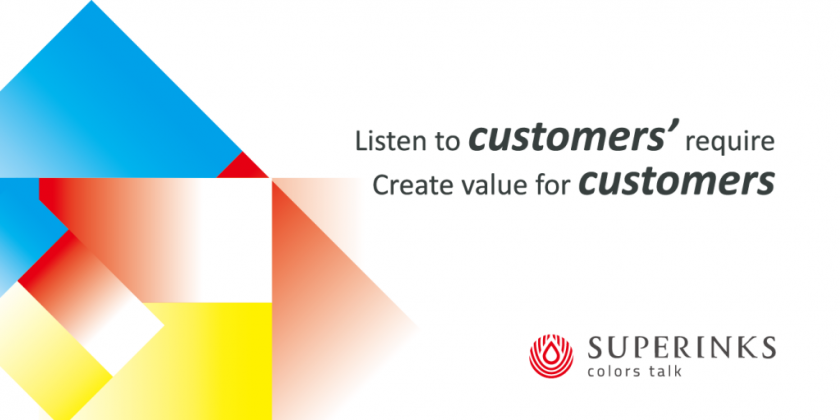 7. Grand goal:
We hope to promote the development of printheads and printers through ink technology and help the development of the digital inkjet printing industry.
We are the forefront and support center of technology.
With our products, our customers share our commitment to leading the printing industry.
Whether for industrial production, design output, or home use, our products provide you with a safe and enjoyable experience where you can freely express, decorate or create a better world.
8. Keeping track of market trends:
Pay attention to the latest industry trends, including but not limited to the latest ink varieties and the latest print head information.
Focus on customer needs, solve customer problems, and provide customers with safer and more pleasant user experiences and better solutions.
Continue to expand the engineering team, strengthen R&D investment, and promote innovation.
9. Brand in our eyes:
A brand is a symbol we use for communication with clients. It displays the company as well-established and reliable and connects clients with our products and services. Behind our brand stands the entire company which you can count on for help and support.
10. History about SUPERINKS.