DTF printer ink is suitable for which print heads?
The following print heads can use SUPERINKS DTF printer ink.
For modified Japanese Epson desktop printers as L1800, 1390, L805, XP600, P400, P600, P800, etc.
For Chinese printers with Epson i3200-a1, 4720, 5113, dx5, xp600 heads.
This DTF printer ink is suitable for which printers?
Grando, Oric, keundo, Taimes, Xkeda, Skycolor, Fedar, Allwin, GZ, Wit-color, Titanjet, Bonssrom, etc.
What is DTF ink? What is DTF printing? What ink is used for direct film?
Explain DTF printing technology.
DTF printer ink (direct to film) is a kind of special pigment ink designed for cotton fabrics and can expand to many different substrates.
It is new technology since March 2020 and spread promptly. It perfectly replaced a big part of DTG T-shirt printing.
DTF working principle is: print on a film with coating on its surface, the coating carried ink well. Firstly print the colorful picture with CMYK and other colors, and then print a layer of white ink. Then it is shipped to a machine, which can spread "hot melt powder" on the wet surface of the printed picture, and then bake it to dry. Then you can roll it up to send to another workshop, or you can cut one piece of the picture, and then heat and press the picture, it will transfer from film to a fabric.
The following video shows what is DTF printer
ink:
Is DTF printer ink the same as DTG ink?
No, DTF ink is not same as DTG ink.
Though both inks are pigment inks, they are different types of pigment ink. DTF's processes are different from DTG, and the working principles are different too. The final effect is different either: DTF printing T-shirt is more bright, better color resistance. DTG printing T-shirt has a softer hand feeling.
What colors can we offer for this DTF printer ink?
cyan, magenta, yellow, black, light cyan, light magenta,
special blue, special orange, special red, special green,
fluorescent magenta, fluorescent yellow, fluorescent orange, fluorescent green,
white,
clean liquid.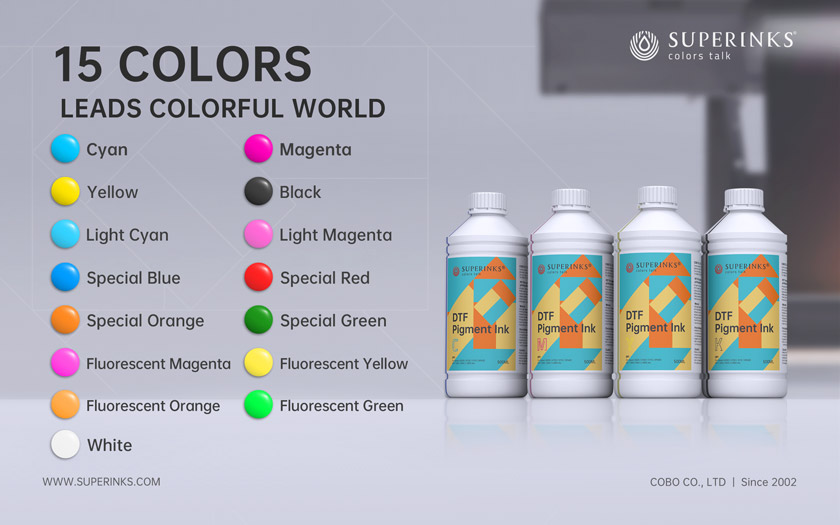 What is the main feature of SUPERINKS DTF ink?
White ink has strong hiding power and high whiteness.
Super-high concentration, brilliant and saturated colors.
White ink and color ink have good compatibility and do not permeate each other.
White and color ink has a high color density and does not appear to uncover white dots.
It is clear when printing small words, the powder shakes cleanly, and the fastness is good.
High resistance to dry/wet rubbing, high fastness to light.
Nanometer fineness, super smooth, and stable output.
SUPERINKS DTF ink working process:
Prepare a printing film. Make sure the printing side up.
Printing colorful pictures, and then printing white color to cover the picture.
Spray hot melt adhesive powder.
Bake the hot melt adhesive to a melted state, at about 80-150 ℃, 3-25 Min.
Heat press at about 150-170℃, 8-15 seconds.
Peel down the substrate.
You will get a finished product.

SUPERINKS DTF ink available package:
Drum/Bottle pack in 1 KG,
Drum/Bottle pack in 0.5 KG,
Drum/Bottle pack in 0.2 KG,
Drum/Bottle pack in 0.1 KG,
customized package is available.
Composition classification of fabrics and suitable digital printing solutions: