What is DTF pigment ink?
DTF ink for Epson application, and advantage.
DTF pigment ink can perfectly print on cotton T-shirts, especially black ones.
And in theory, DTF printer ink can be used on almost all fabrics, cotton, polyester, canvas, denim ETC.
By dtf textile pigment ink printing, the hand feels of the printed T-shirt is soft, with good stretchability and resilience.
SUPERINKS DTF heat transfer pigment ink is always stable.
SUPERINKS DTF transfer film printer ink is very fluent.
SUPERINKS DTF inkjet printer ink will reduce maintenance costs.

This SUPERINKS DTF transfer ink is suitable for print heads as:
For Chinese printers with Epson i3200-a1, 4720, 5113, dx5, xp600 heads.
For modified Japanese Epson desktop printers as L1800, 1390, L805, XP600, P400, P600, P800, etc.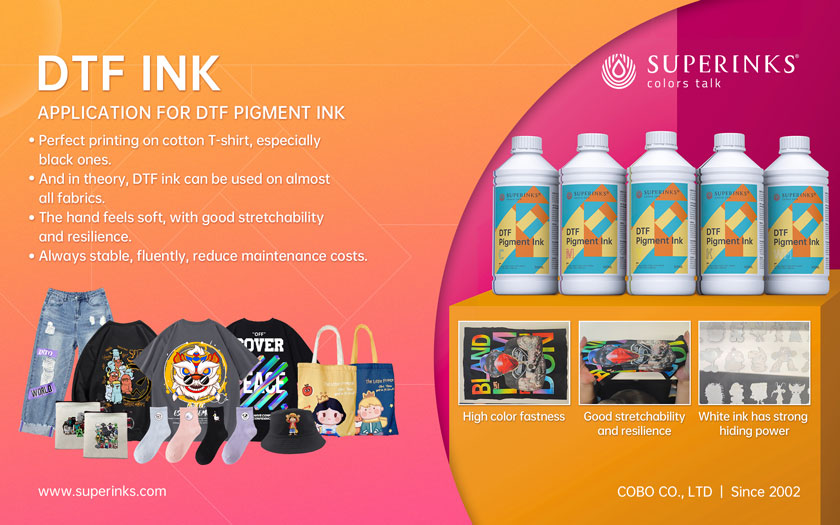 This SUPERINKS DTF print transfers ink with colors:
Cyan, magenta, yellow, black, light cyan, light magenta,
Special blue, special orange, special red, special green,
Fluorescent magenta, fluorescent yellow, fluorescent orange, fluorescent green,
White,
Clean liquid.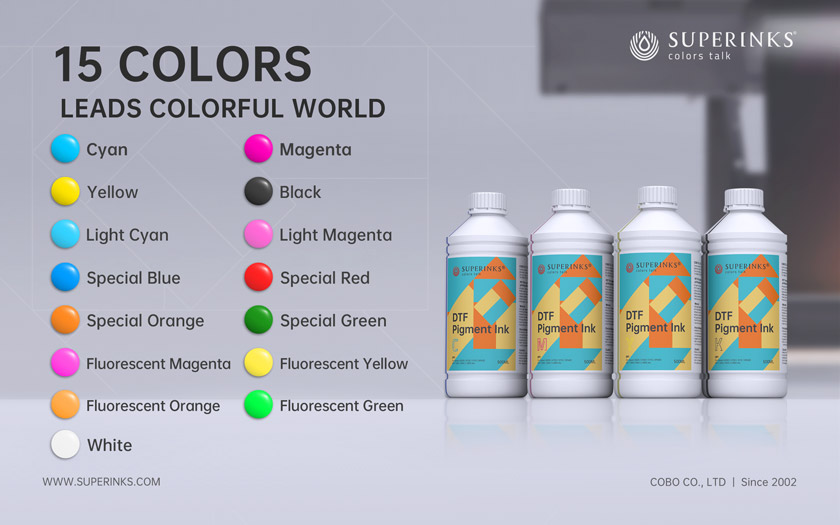 This SUPERINKS DTF printing transfer ink's main features:
White ink has strong hiding power and high whiteness.
Super-high concentration, brilliant and saturated colors.
White ink and color ink have good compatibility and do not permeate each other.
White and color ink has a high color density and does not appear to uncover white dots.
It is clear when printing small words, the powder shakes cleanly, and the fastness is good.
High resistance to dry/wet rubbing, high fastness to light.
Nanometer fineness, super smooth, and stable output.
Applicable materials:
Cotton, linen, polyester cloth, nylon cloth, etc.
We already found that we can not use this DTF ink to do the waterproof cloth printing.
There is more possible textile material waiting for us to be discovered.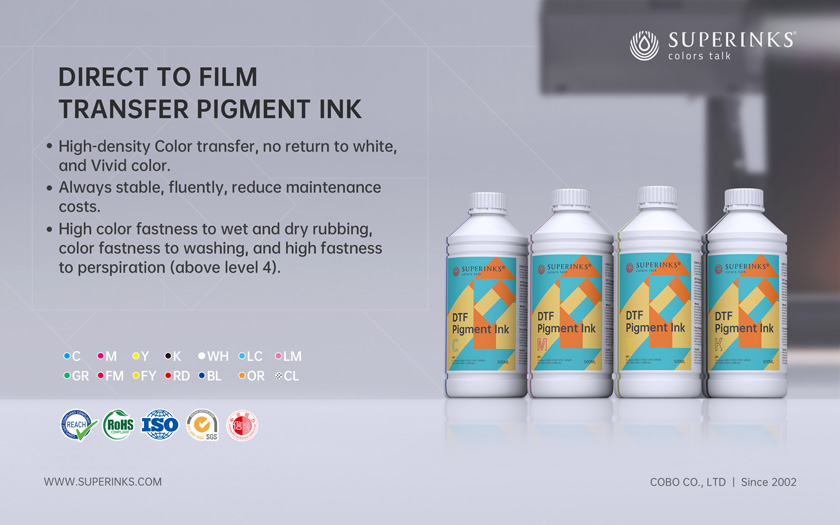 This SUPERINKS dtf heat transfer pigment ink working process:
Prepare a printing film. Make sure the printing side up.
Printing colorful pictures, and then printing white color to cover the picture.
Spray hot melt adhesive powder on the wet white ink surface.
Bake the hot melt adhesive to a melted state, at about 80-150 C, 3-25 Min.
Heat press at about 150-170℃, 8-15 seconds.
Peel down the substrate.
You will get a finished product.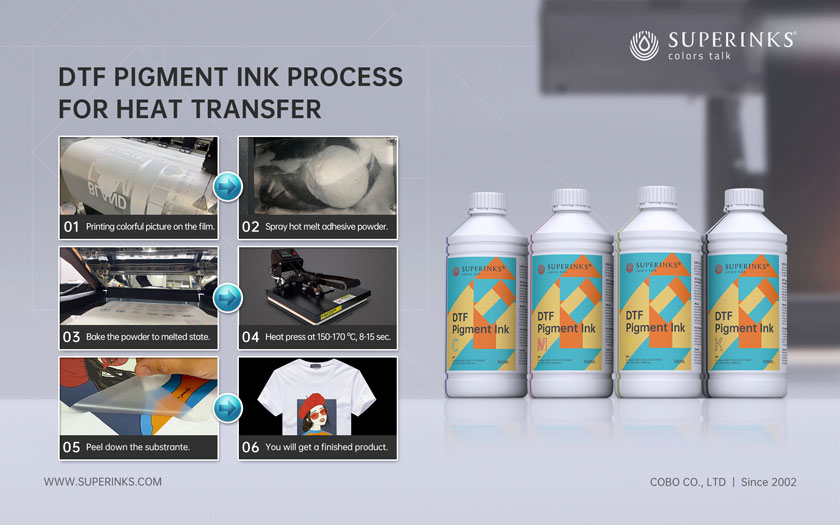 Physical and chemical indicators of DTF pigment ink:
viscosity: 4-6 mPa.s
surface tension: 26-38 mN/m
flashpoint: Above 100℃
What's the difference between DTF ink and DTG ink?
DTG pigment ink printing for T-shirts is an old technology but had not had a big market share for years. DTF technology almost solved all problems that DTG has. It solved not bright enough color, not good wash resistance. Though the hand feel of DTF is a little bit more, it can be improved step by step. T-shirt printing is a huge market, especially pure cotton, especially black pure cotton T-shirts (Before, no technology solved well how to print a soft and bright pure cotton black T-shirt).
We have DTG ink too, you can inquiry us if you are interested.
Available package:
Drum/Bottle pack in 25 KG,
Drum/Bottle pack in 20 KG,
Drum/Bottle pack in 5 KG,
Drum/Bottle pack in 1 KG,
A customized package is available.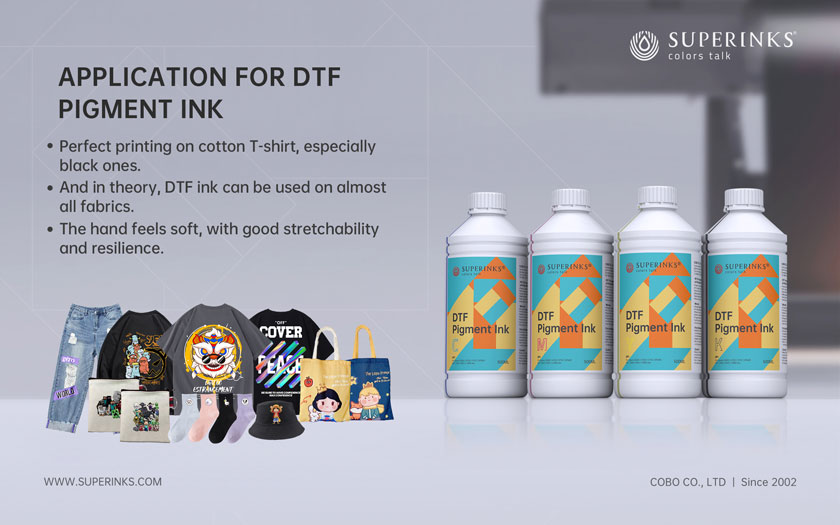 Instructions for use of digital printing inks:
Operating temperature: 20-30℃, Operating humidity:40-60%.
Shake the ink well before putting it on the machine; It will be best if you can use it up within 1 week after opening.
Before using our products for the first time, please empty the ink cartridges, ink circuits, and dampers. If possible, please clean the ink circuit system and replace it with a new damper.
It's very important to make an ICC profile to get brilliant colors if need makes an ICC profile, contact us, and we will help.
Transport and storage conditions:
Avoid direct light, and storage temperature at 15-30℃; after opening the seal of the package, please avoid dust and other sundries going into ink composition.
The goods are identified as Non-dangerous goods in accordance with IMO, RID/ADR, IMDG, ICAO, and IATA.
MSDS available.
Composition classification of fabrics and suitable digital printing solutions:
Plant fiber: cotton, linen, etc.
Suitable for: DTF ink printing, DTG ink printing, reactive ink printing.

Chemical fiber: Polyester etc.
Suitable for: Sublimation ink printing, disperse ink printing

Silk: Mulberry silk, tussah silk, rayon, synthetic filament, etc.
Suitable for: reactive ink printing.

Animal hair fiber: Mink fur, wool, rabbit fur, camel fur, etc.
Suitable for: Reactive ink printing, Acid ink printing.
A video introduction of SUPERINKS factory:
Youtube: https://youtu.be/-M0yrUgOXLY