Sublimation ink for Epson i3200 suitable for which print heads?
For Epson i3200-a1, 4720, 5113, DX7, DX6, DX5, DX4, xp600, TX800, etc. print heads.
Sublimation ink is suitable for printer brands:
Atexco, Hanglory, Homer, Efi, Liyu, JHF, Flora, etc.
Skycolor, Fedar, Xkeda, Grando, Eric, Keundo, Human, etc.
SUPERINKS can offer colors for sublimation ink as follows:
Black, Cyan, Magenta, Yellow,
Light Cyan, Light Magenta, Light Black, Light Light Black,
Fluorescent yellow, Fluorescent red,
Clean liquid.
This sublimation ink for Epson has features as follows:
SUPERINKS sublimation ink's black ink is ultra-high concentration without a color cast, CMY, and other colors bright and saturated.
No ink flying, no ink bleeding, sharpness, and no mutual penetration.
Stable formula, particles smaller than 0.3 μm, very smooth, friendly to the print head.
Smoke-free formula, high transfer rate, environmental protection, and economy.
Long shelf life, 12 months in bottle, and longer in the bag.
Good resistance to dry and wet rubbing and good light resistance.
According to the SGS report, the ink does not contain harmful materials and is environmentally friendly and harmless.

Applicable materials:
Textile as: polyester cloth, nylon cloth;
Hard media such as: glass, crystal, ceramic, metal, wood, etc.
Application:
Fabric printing (clothing, shoes, hats, curtains, ties, bags, umbrellas, clothing accessories, webbing), making personalized cups, cutlery, kettles, pen cases, personalized photo albums, etc.

This sublimation ink printing condition:
Temperature: 20-30℃. If beyond the temperature range, please use a heater or air conditioner.
Humidity: 40-60%.
This sublimation ink package:
Drum/Bottle pack in 25 KG,
Drum/Bottle pack in 20 KG,
Drum/Bottle pack in 5 KG,
Drum/Bottle pack in 1 KG,
A customized package is available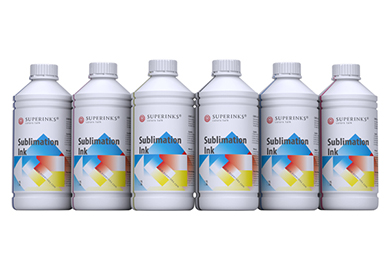 SUPERINKS sublimation ink working process:
Method 1: Printing on heat transfer paper. Heat press to transfer the pattern from paper to polyester cloth.
Method 2: Sizing the polyester cloth. Dry the cloth. Direct printing on the cloth.
Precautions for the use of sublimation ink:
It is only suitable for fabrics with more than 80% chemical fiber.
Pay attention to the shelf life of the ink before use. The expired ink is likely to precipitate and block the print head.
Dye sublimation ink is colored by heating, and the color before heating is not bright.
The temperature, pressure, and duration of the use process, as well as the fabric, will affect the vividness and colorfastness of the color.
The ink colors of different manufacturers will be different. If the color requirements are strict, an ICC curve is required.
Instructions for use of digital printing inks:
Shake the ink well before putting it on the machine; It will be best if you can use it up within 1 week after opening.
Before using our products for the first time, please empty the ink cartridges, ink circuits, and dampers. If possible, please clean the ink circuit system and replace it with a new damper.
It's very important to make an ICC profile to get brilliant colors if need makes an ICC profile, contact us, we will help.
Transport and storage conditions:
Avoid direct light, and storage temperature at 15-30℃; after opening the seal of the package, please avoid dust and other sundries going into ink composition.
The goods are identified as Non-dangerous goods in accordance with IMO, RID/ADR, IMDG, ICAO, IATA.
MSDS available.
Composition classification of fabrics and suitable digital printing solutions:
Plant fiber: cotton, linen, etc.
Suitable for: DTF pigment ink printing, DTG pigment ink printing, reactive ink printing.

Chemical fiber: Polyester etc.
Suitable for: Sublimation ink printing, disperse ink printing

Silk: Mulberry silk, tussah silk, rayon, synthetic filament, etc.
Suitable for: reactive ink printing.

Animal hair fiber: Mink fur, wool, rabbit fur, camel fur, etc.
Suitable for: Reactive ink printing, Acid ink printing.
SUPERINKS factory introduce video: