SUPERINKS sublimation ink for Epson can work on which model printers?
Epson 8550, 7710, 2800, 2720, WF7840
Epson expression photo HD XP 15000, Epson surecolor P700, Epson surecolor P900,
Epson surecolor F170, Epson surecolor F570,
Epson L800, L805, L1800, L310, L210, Epson T50, T60, Epson R230, R290, R330, Epson 1390.
The Epson dye sublimation printer ink working process:
Print on heat transfer paper,
Heat and press to transfer the picture from paper to fabric,
We get finished picture on fabric.
What colors we can offer for this Epson dye sublimation printer ink?
Black, Cyan, Magenta, Yellow, Light Cyan, Light Magenta
Fluorescent yellow, Fluorescent red,
Clean liquid.

Application:
Fabric printing (clothing, shoes, hats, curtains, ties, bags, umbrellas, clothing accessories, webbing), making personalized cups, cutlery, kettles, pen cases, personalized photo albums, etc.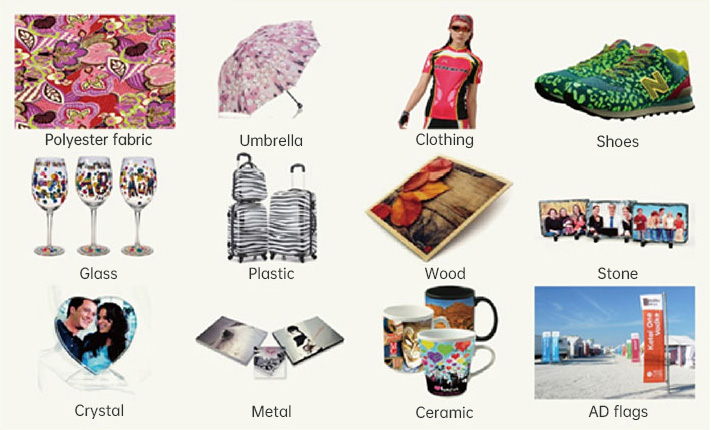 The SUPERINKS Sublim shirt ink features:
Very bright color and high density,
The black color not redish, not blueish, real black. Gray colors in real gray.
The high transfer rate reaches 90%, no waste,
Very fluent printing, saving maintenance time,
Very stable quality, each batch same color, same stable.
What kind of package we can offer for this Sublimation Ink for Epson?
0.1 KG long nose small bottle,
1 KG bottle,
Other customized bottle.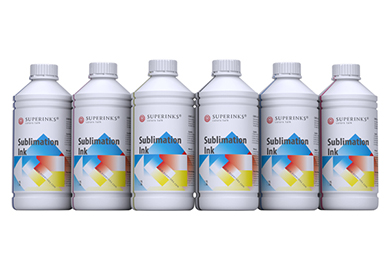 Transport and storage conditions for this thermo sublimation ink:
Avoid direct light, storage temperature at 15-30℃; after opening the seal of the package, please avoid dust and other sundries going into ink.
The goods are identified as Non-dangerous goods in accordance with IMO, RID/ADR, IMDG, ICAO, IATA.
MSDS available.
Composition classification of fabrics and suitable digital printing solutions:
What fabrics can use digital print on? Does sublimation ink only work on polyester?
How many types of digital printing are there on fabric?
SUPERINKS factory introduce video: