The SUPERINKS dye sublimation ink used on which print head?
KJ4B-QA normal speed 600DPI,
KJ4B-YH high speed 600 DPI,
KJ4B-1200-high resolution 1200dpi,
KJ4B-0300- double color head 300 DPI.
The SUPERINKS dye sublimation ink used on which printer brands?
Dilli, DGI, etc.
Atexco, Hanglory, Homer, Efi, Liyu, JHF, Flora, etc.
Xkeda, Fedar, kycolor, Grando, Human, etc.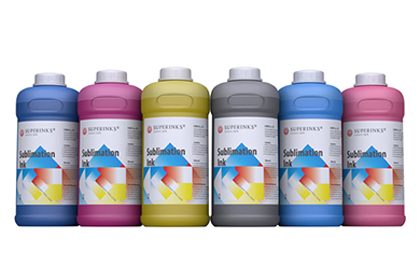 The features for the dye sublimation ink for Kyocera:
High color saturation, wide gamut, brilliant colors,
No ink flying, No ink bleeding, sharp pictures,
While heat transfer colors from paper to textile, the colors transfer rate is high,
The quality and color of different batches are unchanged,
Low vapor emission, environment-friendly,
Nanotechnology, super fluidity, low sedimentation rate prevents nozzle clogging,
Good resistance to dry/wet rubbing, high light fastness,
If the sealed bag packing, the expiry date can be 24 months,
Competitive prices.
What colors do we have for this dye sublimation ink?
Black, Cyan, Magenta, Yellow, Light Cyan, Light Magenta,
Clean liquid.
SUPERINKS' sublimation ink applicable materials:
Textile as: polyester cloth, nylon cloth;
Hard media like glass, crystal, ceramic, metal, wood, etc.
The printing condition:
Temperature: 20-30℃. If beyond the temperature range, please use a heater or air conditioner.
Humidity: 40-60%.
Store temperature 15-30℃.
What kind of package we can offer?
Drum/Bottle pack in 25L,
Drum/Bottle pack in 20L,
Drum/Bottle pack in 5L,
Bag pack in 2L,
Drum/Bottle pack in 1L,
Bag pack in 1L.
Manual for the use of sublimation ink:
It is only suitable for fabrics with more than 80% chemical fiber.
Pay attention to the shelf life of the ink before use. The expired ink is likely to precipitate and block the print head.
Dye sublimation ink is colored by heating, and the color before heating is not bright.
The temperature, pressure, and duration of the use process, as well as the fabric, will affect the vividness and colorfastness of the color.
The ink colors of different manufacturers will be different. If the color requirements are strict, an ICC curve is required.
These sublimation ink for Kyocera related products:
SUPERINKS factory introduce video: