Eco solvent printer ink suitable with which print heads?
For Seiko 508 12PL, Alpha 1024 25PL, etc.
For Starfire 1024 10PL-25PL, etc.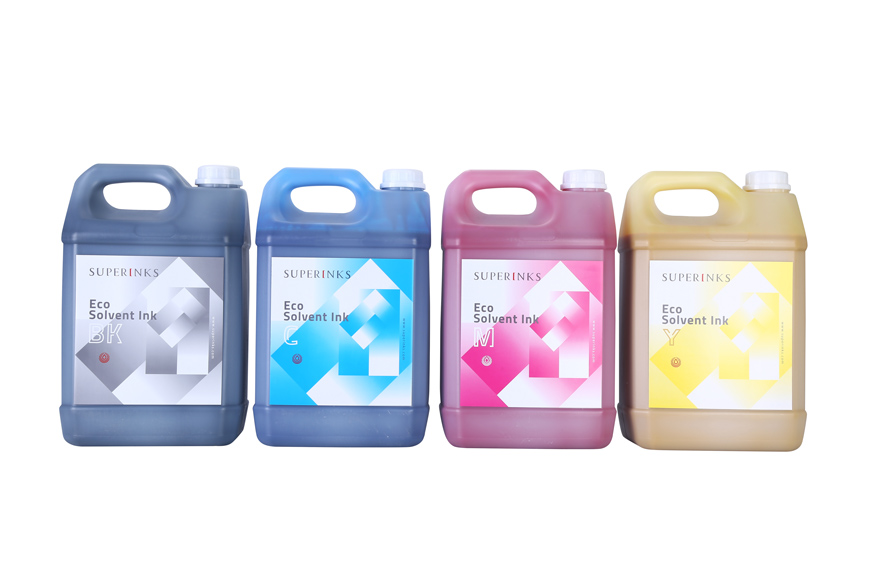 The eco solvent printer ink is suitable for printer brands as:
Gongzheng, Witcolor, Flora, etc.
FY-Union, Phaeton, Galaxy, Challenger, Infinity, Ico-tec, etc.
The Eco solvent printer ink's Outdoor life:
There is two option for the customer.
Outdoor durability 8-10 months,
Outdoor durability 24 months.
The Eco solvent printer ink's colors:
Black, Cyan, Magenta, Yellow,
light cyan, light magenta,
Clean liquid.
The eco solvent printer ink's odor level:
odorless.
SUPERINKS eco solvent printer ink has features:
Fluent, extended print head lifetime;
Always stable quality;
One ink is compatible with different heads;
Bright color;
Wide gamut, excellent picture gradual change;
Longer outdoor life;
Less smell, more eco-friendly;
Better raw material;
Perfect match high-speed printing.
Applications of eco solvent printer ink:
Print on canvas for outdoor banners for roadside advertising, shop sign, shop promotion, etc.
SUPERINKS eco solvent printer ink's printing condition:
Temperature: 20-30℃ If beyond the temperature range, please use a heater or air conditioner.
Humidity: 40-60%.
SUPERINKS eco solvent ink's package:
5L bottle,
If need customized packaging, we can discuss it.
Storage instructions:
Store temperature: 15-30℃;
Expire time: 12 months ( if stored at 18-25 ℃, maybe more than this time);
After the seal film is opened, please make sure to keep the bottle covered to avoid dust and humidity to change the ink composition.
Manual:
Shake the ink well before putting it on the machine; It will be best if you can use it up within 1 week after opening;
Before using our products for the first time, please empty the ink cartridges, ink circuits, and dampers. If possible, please clean the ink circuit system and replace it with a new damper;
It's very important to make an ICC profile to get brilliant colors, if need to make an ICC profile, contact us, and we will help.
Related products:
Mild solvent ink for Starfire and Seiko alpha,
SUPERINKS factory introduce video: