Eco solvent ink EPSON compatible with which print heads?
Epson i3200-e1,
Epson L1440,
Epson xp600 F1080,
Epson DX5,
Epson DX4.
The SUPERINKS eco solvent ink EPSON is compatible with which printer brands?
Skycolor, Xkeda, Grando, Eric, Keundo, Allwin, GZ, Gongzheng, Wit-color, Flora, Handtop, etc.
The outdoor durability life of this eco solvent ink:
From the market response, it is 8-10 months time.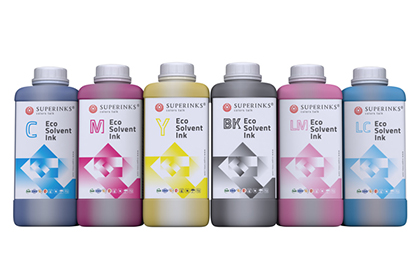 Feature:
Environmentally friendly products, non-toxic and odorless;
Saturated color, wide color gamut, high restoration;
Environmentally friendly solvent, extend the life of the print head;
Nanometer fineness, microcapsule wrapping technology, super smooth, extend the life of the print head;
Good compatibility, suitable for various brands printers; strong adaptability, suitable for both north and south in spring, summer, autumn, and winter;
No ink flying, no ink bleeding, sharp picture;
Super long shelf life can be 12 months in a bottle, 24 months in a vacuum bag.
Manuals :
Use temperature 20-30℃, humidity: 40-60%,
Shake the ink well before putting it on the machine; It will be best if you can use it up within 1 week after opening.
Before using our products for the first time, please empty the ink cartridges, ink circuits, and dampers. If possible, please clean the ink circuit system and replace it with a new damper.
It's very important to make an ICC profile to get brilliant colors, if need to make an ICC profile, contact us, we will help.
Application of eco solvent ink epson:
Car sticker, PP adhesion, backlit banner, front-lit banner, backlit film, photo paper, one-way vision, painting canvas.
Available package for eco solvent ink epson:
Drum/Bottle pack in 5L,
Bag pack in 2L,
Drum/Bottle pack in 1L,
Bag pack in 1L,
Bag in the cartridge in 440ML,
A customized package is available.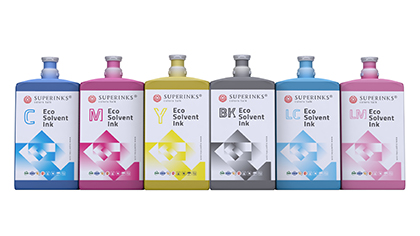 Transport and storage conditions:
Avoid direct light, and storage temperature at 15-30℃; after opening the seal of the package, please avoid dust and other sundries going into ink composition.
The goods are identified as Non-dangerous goods in accordance with IMO, RID/ADR, IMDG, ICAO, IATA.
MSDS available.
Related Eco solvent ink products:
SUPERINKS factory introduce video: