Eco sol ink compatible with printers as:
Epson DX4/ DX5/ DX6/ DX7/ TFP/L1440/ XP600/ I3200 Print heads,
Epson Surecolor 40680/ 60680/ 40610/ 60610 etc,
MIMAKI: CJV30/ CJV150/ JV3/ JV5/ JV33/ JV34/ JV150/ JV300 etc,
Roland: FJ/ SJ/ XC/ SC/ VP/RS/ SP (540/640/740) Series,
VS-540/ VS-640/XF-640/ XR-640/ RA-640/ RF-640 etc,
MUTOH: VJ-1324/ VJ-1204E/ VJ-1604E/ VJ-1624/ VJ-1924/ VJ-1638/ VJ-1938/ VJ-2638 etc.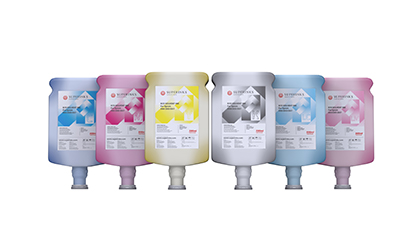 Features of this SUPERINKS eco sol ink:
One type ink compatible Epson DX4/DX5/DX7/XP600/TFP/I3200,
Real 24 months of outdoor durability,
No GBL, benzene, toluene, xylene, cyclohexanone, and other toxic solvents free,
Odourless, more eco-friendly,
Imported raw materials: Clariant, BASF, Wacker, etc,
Bright color, wide gamut, excellent picture gradual change,
Always stable and fluent, provide one year warranty or 30,000 square meters of print volume for the new Epson TFP head.
What colors SUPERINKS can offer for this eco sol ink?
Black, Cyan, Magenta, Yellow,
Light Cyan, Light Magenta, Light Black,
Red, Orange, (similar color as Epson sure color)
Clean liquid.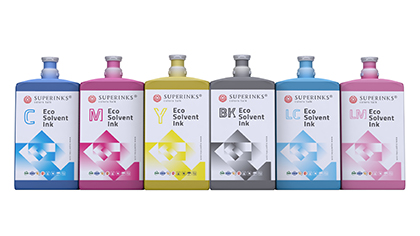 Manuals of eco sol ink:
Use temperature 20-30℃, humidity: 40-60%;
Shake the ink well before putting it on the machine; It will be best if you can use it up within 1 week after opening;
Before using our products for the first time, please empty the ink cartridges, ink circuits, and dampers. If possible, please clean the ink circuit system and replace it with a new damper;
It's very important to make an ICC profile to get brilliant colors, if needed to make an ICC profile, contact us, we will help.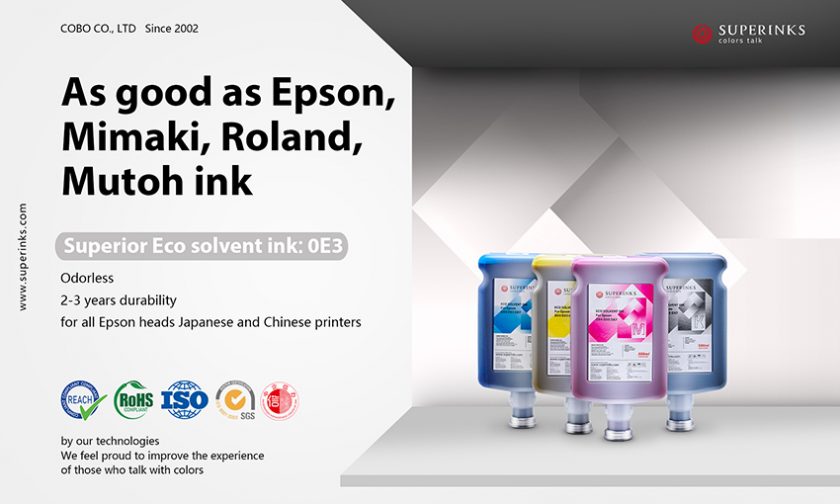 Application for this available Roland eco sol ink:
Self-adhesive vinyl, PP adhesive, PVC flex banner, Backlit PET Film, photo paper, one-way vision, canvas etc.
Available package for this available Roland eco sol ink:
Drum/Bottle pack in 5L,
Bag pack in 2L,
Drum/Bottle pack in 1L,
Bag pack in 1L,
Bag in the cartridge in 440ML,
A customized package is available.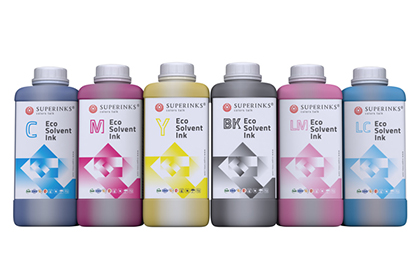 Transport and storage conditions for the eco sol ink:
Avoid direct light, storage temperature at 15-30℃; after opening the seal of the package, please avoid dust and other sundries going into ink composition;
The goods are identified as Non-dangerous goods in accordance with IMO, RID/ADR, IMDG, ICAO, IATA;
MSDS available.
Related eco solvent ink products:
SUPERINKS factory introduce video:
Youtube: https://youtu.be/-M0yrUgOXLY