Until April 11, 2023, Atexco printer company released 4 types of sublimation ink for their Kyocera print heads. We use these 4 inks test for Kyocera printhead Atexco printer and see from the "dry speed", "picture resolution", "fluency", "color density", etc to identify the difference.
4 inks test for Kyocera printhead Atexco printer:
The model CSK00011 (We say it 11) is produced by L ink factory, the features are: high resolution, and dry too fast. The customer tested about open printer without print for a half hour, he printed the nozzle check and find a lot of missing pins. We can see the video for the information:
The model CSK00012 is produced by L ink factory also, the features are: not in high resolution, but dry speed is good slow enough. Here to see the details:
The model CSK00015 is produced by T ink factory. Customer's feedback is: The resolution is between "11" and "12", still dry very fast, like 10 minutes. If dry speed too fast, the customer need clean print head too many times each day, which will reduce their feeling of performance experience.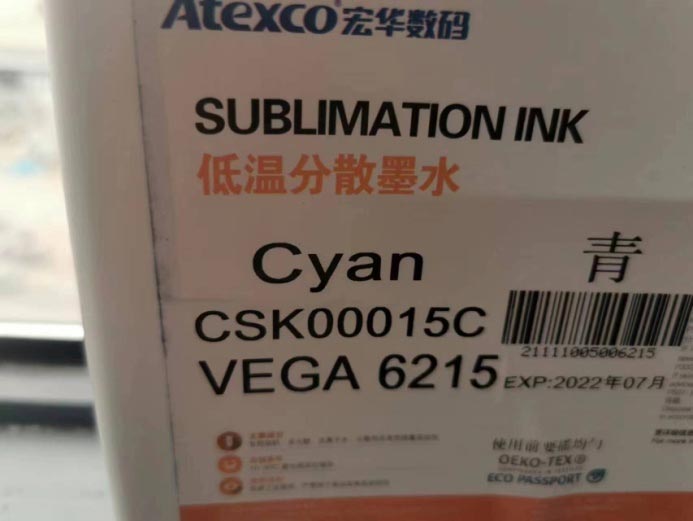 The model CSK00080 is produced by Atexco's own ink factory in TianJin City. When I first see this model, it was Mar 7, 2023, in a Chinese customer's place. The features are: The resolution is middle, but cyan color shows "heavy and light lines, uneven colors on picture". Please check the video:
And you can see video of SUPERINKS sublimation ink for Kyocera print heads on Atexco printer here. https://youtu.be/J3Yajjs89m0
SUPERINKS sublimation ink, can stay 1 hour without printing while printer turned on, the dry speed slower than CSK00011, while keeping the highest resolution for the pictures. One of our customers said: Ink dry slower, after one night, no need clean, ink density higher, friendly to print head. And if you have this SUPERINKS sublimation ink model at hand, you can compare the smell, the smell is much less than "11".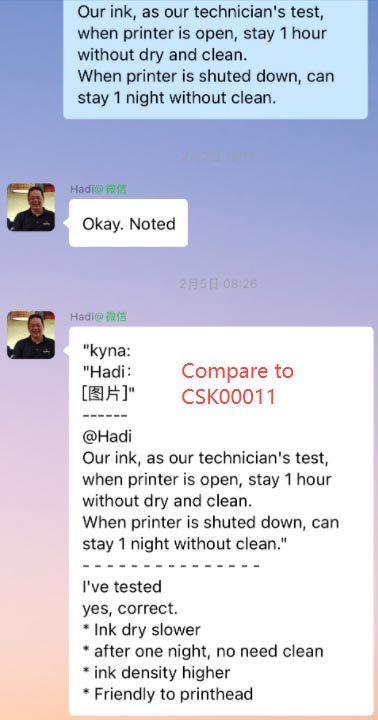 This Kyocera head Atexco printer, uses best in room temperature of 20-28 ℃ and humidity of 50-80%. And we test SUPERINKS ink at 35 celsuis and 45% humidity extreme environment, printing for 2 hours, still working fluently, as the video here: https://youtu.be/e2ARSkMrX5U
And we suggest to our customers, if you want the printing to be stable, and smooth for days and nights working, you can install a humidifier in your printing room, like this:
If you have more questions about Atexco Kyocera print head printers to discuss, welcome to communicate with us.