Mild Solvent Ink For Starfire Seiko 25PL 12PL
Mild Solvent Ink For Starfire Seiko 25PL 12PL
Brand :superinks
Product origin :china
Delivery time :3-7 working days if less than one container, 7-15 working days if more.For exact, please communicate.
Supply capacity :500 tons a month
Stable, each batch same. If any quality problem, 100% guarantee.
All colors high density, 30% more density than Chinese market ink. Colors bright, wide gamut.

Perfect match Wit-color starfire 25PL and 10PL , Gongzheng starfire 25PL and 10PL, and Phaeton Seiko 1024 Alpha 12Pl printers etc, with excellent market feedback. The famous printers' excellent feedback proves the quality of us, you are worthy to choose it. The ink model are researching while the printer brand researching the model on that print head, update together, improve together, shows unparalleled matching for printer and ink. Your excellent printing performance will prove this.
china ink for Allwin, Sales mimaki ss21 inks, solvent vs eco solvent ink Factory
Mild Solvent Ink For Starfire Seiko 25PL 12PL
Mild Solvent Ink for print heads:

1. Seiko 508 12PL, Seiko Alpha 1024 25PL
2. Starfire 1024 10PL-25PL
3. Spectra polaris 15PL/35PL, Spectra nova 128 or 256
Mild Solvent Ink suitable for printer brands:
1. Gongzheng, Witcolor, Flora
2. FY-Union, Phaeton, Galaxy, Challenger, Infinity, Ico-tec ,Etc.
Mild Solvent Ink's outdoor life: Stable series ( 6-8 month ) It's real outdoor life, some told this is 1 or 1.5 years outdoor life, please consider on.
Mild Solvent Ink's colors: Black, Cyan, Red, Yellow
Mild Solvent Ink's odor level: Smart ( low odor)
Model: 1S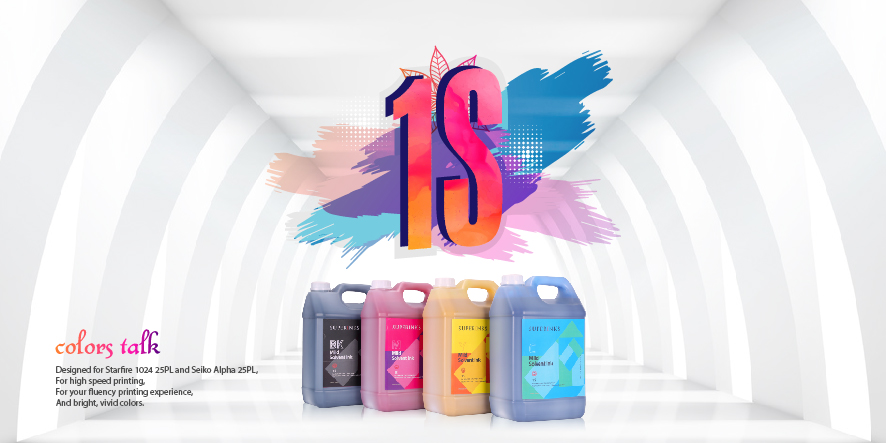 Ink features:
1. Fluent, extend print head life time;
2. Always stable quality;
3. One ink compatible for different heads;
4. Bright color;
5. Wide gamut, excellent picture gradual change;
6. Longer outdoor life;
7. Less smell, more eco-friendly;
8. Better raw material;
9. Perfect match high speed printing.
Ink applications:
Print on canvas for outdoor banners for roadside advertising, shop sign, shop promotion etc.
Ink printing condition:
Temperature: 18-30 C /64-86 F. If beyond the temeprature range, please use heater or air condition.
Humidity: 25-70%.
Ink package:
1L / 4L / 5L pack (customized package is available)
Ink storage instructions:
Store temperature: 18-30 C
Expire time: 12 month ( if store on 18-25 C, may more than this time).
After the seal film is opened, please make sure keep bottle covered to avoid dusy and humidity to change the ink.
Original articles, may not be reproduced.
Author: Ms Kyna Zhou.
Writing time: 2019-2-20An
An Overview of the Three Ink Characteristics is Provided by a 6-Star MapSuperinks Soft UV InkAdvantages:
Best folding endurance, good adhesion, good freezing toughness.
Disadvantages:
Ink layer is too soft, and it is easy to leave scratch marks on the h...more
Get the latest price? We'll respond as soon as possible(within 12 hours)