Superior Eco Solvent Ink For Epson DX4 DX5 DX7 2-3 Years
Superior Eco Solvent Ink For Epson DX4 DX5 DX7 2-3 Years
Brand :superinks
Product origin :china
Delivery time :3-7 working days if less than one container, 7-15 working days if more.For exact, please communicate.
Supply capacity :500 tons a month
Odorless, the smell level is as low as water based ink, obey ROHS and Reach certification.
Outdoor lifetime 2-3 years. The best quality raw material and formula ensure the real outdoor life, which is proved by customer.
Stable, each batch same. If any quanlity problem, 100% guarantee. Our company has excellent quality control system, we can promise on confidence because what we have done.
Fluency printing, protect print head. The inks can pass the standard of: use clean liquid wipe the dried ink, it will be wiped down. It means, while there is little dried ink, just clean, the head will as excellent as new.
Cheap eco solvent pigment ink, Sales eco solvent ink manufacturers, eco sol ink price
Superior Eco Solvent Ink For Epson DX4 DX5 DX7 2-3 Years
Suitable print heads:
Epson TFP Japanese heads / DX6 / DX5 / DX7 / XP600 / TX800
Suitable for printer brands:
1. For Mimaki, Roland, Mutoh, Epson printers;

2. For Chinese printers with Epson DX6 / DX5 / DX7 / XP600 / TX800 heads.
Outdoor life:
Superior series ( 2-3 years).
Colors:
Black, Cyan, Real Magenta, Earth yellow
Odor level:
Easy ( odorless)
Model:
0E3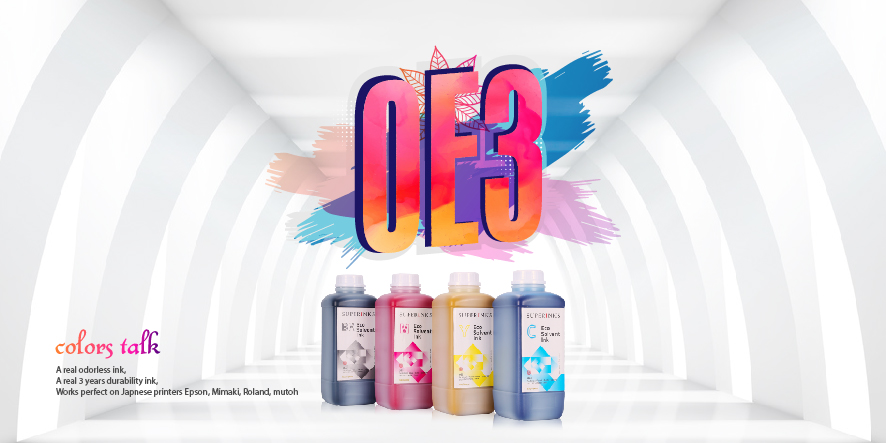 Features:
1. Fluent, extend print head life time;
2. Always stable quality;
3. One ink compatible for different heads;
4. Bright color;
5. Wide gamut, excellent picture gradual change;
6. Longer outdoor life;
7. Less smell, more eco-friendly;
8. Better raw material;
9. Perfect match high speed printing.
Applications:
Print on canvas for outdoor banners for roadside advertising, shop sign, shop promotion etc.
on car stickers super flexible film;
on indoor advertisement;
on indoor decorate as wallpaper, curtains, floor mats, tablecloths, sofa surface and similar leather or artificial leather surface etc.
Printing condition:
Temperature: 18-30 C /64-86 F. If beyond the temeprature range, please use heater or air condition.
Humidity: 25-70%.
Package:
1L / 4L / 5L pack (customized package is available)
Storage instructions:
Store temperature: 18-30 C.
Expire time: 12 month ( if store on 18-25 C, may more than this time).
After the seal film is opened, please make sure keep bottle covered to avoid dusy and humidity to change the ink.
Original articles, may not be reproduced.
Author: Ms Kyna Zhou.
Writing time: 2019-2-20An
An Overview of the Three Ink Characteristics is Provided by a 6-Star MapSuperinks Soft UV InkAdvantages:
Best folding endurance, good adhesion, good freezing toughness.
Disadvantages:
Ink layer is too soft, and it is easy to leave scratch marks on the h...more
Get the latest price? We'll respond as soon as possible(within 12 hours)