>
>
>
UV printer ink adhesion detailed explain
UV printer ink adhesion detailed explain
UV printer ink adhesion detailed explain
SuperInks Report - Tips on digital printing UV-curable ink technology
Report date: 2019-8-12
Author: Ms. Kyna Zhou, Kyna@superinks.com, Mobile: +86-18922860945
Company: COBO Co., Ltd, website: www.superinks.com, location: Shenzhen/Zhuhai, China.
By our technologies, we feel proud to improve the experience of those who talk with colors.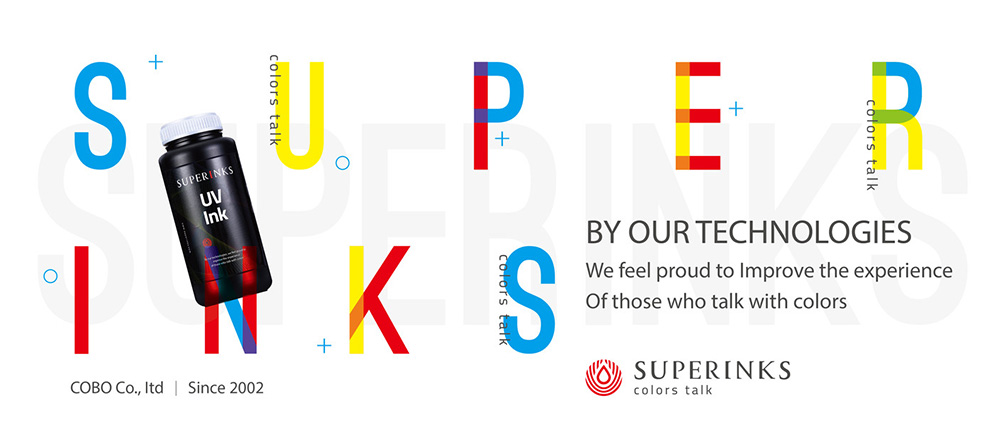 (One). Whats uv ink, uv printer ink? Or what is uv curable ink? Or what is led uv ink?
UV curable ink (short as uv ink) is a kind of digital printing technology, the ink is dried by UV light (UV mercury light or uv led light) after printing. Thus, the dried uv ink becomes a piece of thin sheet, attached to substrate surface, without penetration into the substrate. Because of this feature, uv ink can print on any substrate as theoretically.
(Two). Is it real that uv ink can print on any substrate in practical application? What do we need to do to achieve it? How uv-curable ink works? How does uv ink work? How does uv curing work?
Mostly, uv ink are supposed to use to print on glass, metal, MDF, pvc board, foam board, flex, vinyl etc. In particle application, uv ink flexible type can direct print on flex and vinyl, uv ink hard type can direct print on foam board, but need pre-coating to print on pvc board, MDF(depend on surface handle method), metal and glass with hard/rigid ink.
Substrate on the bottom side, if some substrate needs pre-coating before print, there is coating in middle, dried uv ink sheets will on the top side, as following picture show. The UV-curable ink is cured and adhered to the media or substrate by UV radiation.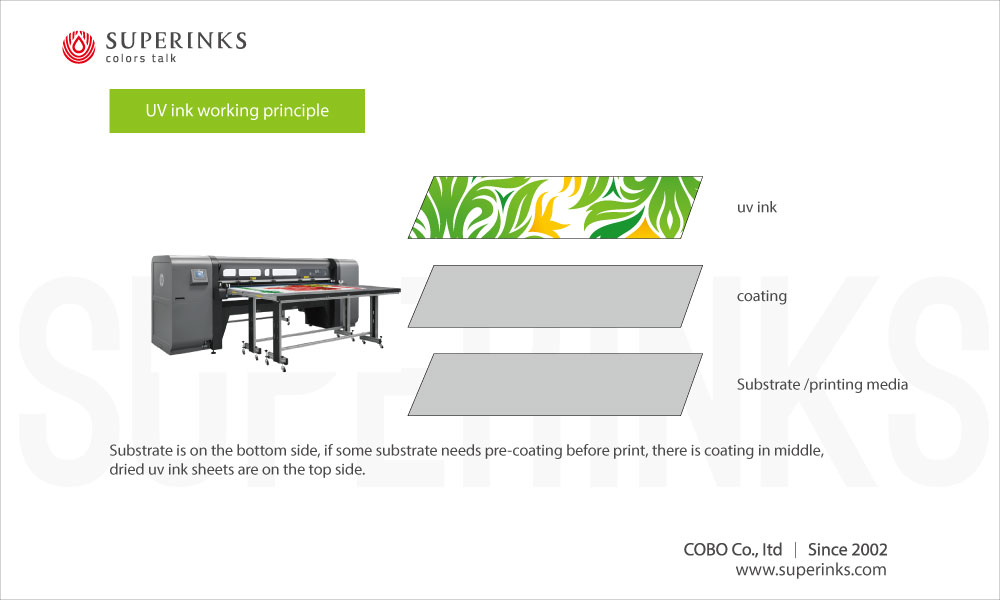 (Three). How to evaluate uv curable inks?
A qualified uv curable ink should be give stable fluent printing performance first, should give vivid bright colors, with good adhesion on substrate, outdoor (under direct sunlight and face rainy weather) life can be 1 or 2 years with few fade, without break and peel down as following picture show.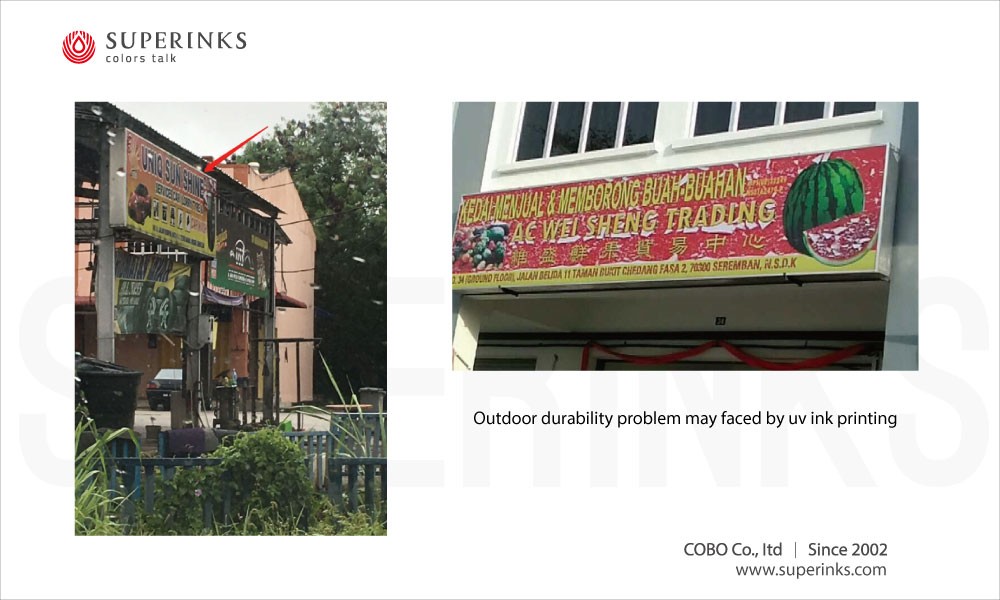 The above picture shows uv printer ink durability problem, picture breaked.
Fluent printing and vivid colors mainly affect by formula and raw material quality, which is mainly control by ink factory, but adhesion problem not only related to formula, but also related much to how we use uv ink, which substrate we choose, which can control by application side, thats the reason that I wish to explain adhesion for uv inks. SUPERINKS team have done a lot of evaluate on different types of substrate with customer, wish to give you some information for reference.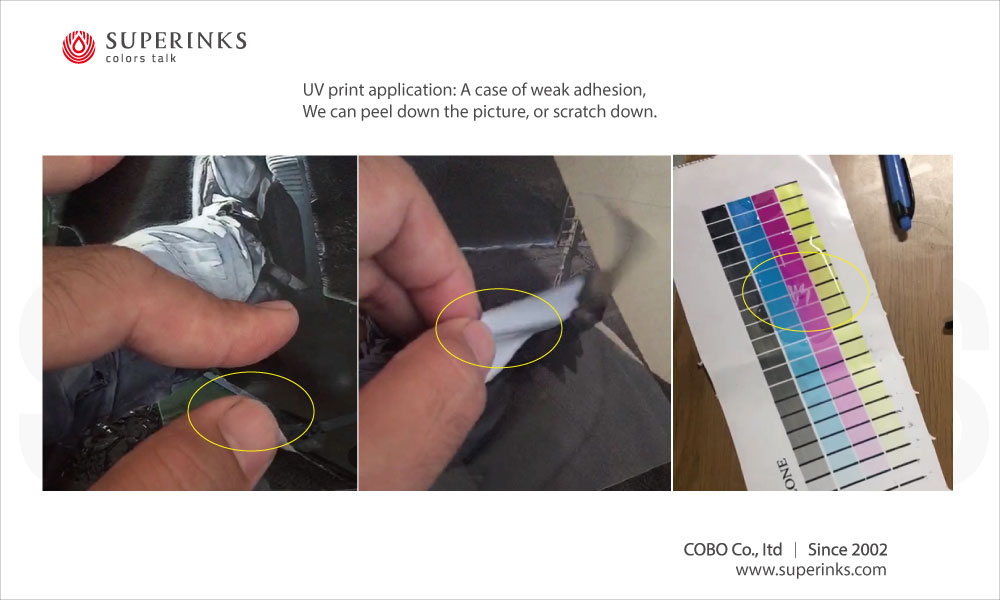 The above picture shows a case of weak adhesion, we can peel down the picture, or scratch down.
(Four). What mainly affects weak adhesion problem in uv ink printing?
1. One of the ink raw material content: Resin. The suitable good quality resin will gives ink good adhesion feature.
2. If the led power of the printer is not enough (Normally, 395nm for led light ok), the ink can not cured enough, or only cured surface, not cured totally, the adhesion will be weak.
3. If inks extensibility and substrates extensibility is same during hot and cold, light and night, add adhesion.
4. If use pre-coating liquid, coating will corrode the surface of substrate, to make it less glossy, add adhesion.
5. If surface of substrate is glossy, dried ink can not hold well because of lack of friction, adhesion less.
6. If the substrate is hard, not easy to be corroded, adhesion less.

(Five). How to do to confirm a certain uv ink have enough adhesion at practical application?
The main method is: evaluate the certain uv ink on different type of material substrate, if it works, then start sell; if not evaluate one type of material substrate yet, dont sell ink on that application, Because we never know what will happen without evaluate.
(Six). How to do evaluate uv ink adhesion before selling to market?
We dont have a universal solution on all substrates, but SUPERINKS team can give some thinking methods.
For example, we can do as following methods. Of course, there is more methods, which need us to work out according to real practical application.
We compare adhesion difference while all other situation are same. Eg. a certain ink, a certain printer, with certain print heads. According to current uv ink application situation, I suggest to evaluate following materials first.
 Glass
 Metal
 Ceramic
 MDF (according to surface treatment process, eg melamine coating)
 Original Wood
 PVC banner (backlit, frontlit)
 Vinyl
 Artificial leather
 Genuine Leather
ETC.
The more materials may use uv printing according to your business. The most attractive place is, uv ink printing application area ranges large, there is more field that waiting for you to discover. We can simulated use scenario, to think what features needed, and how to evaluate if the uv printed pictures can reach the features.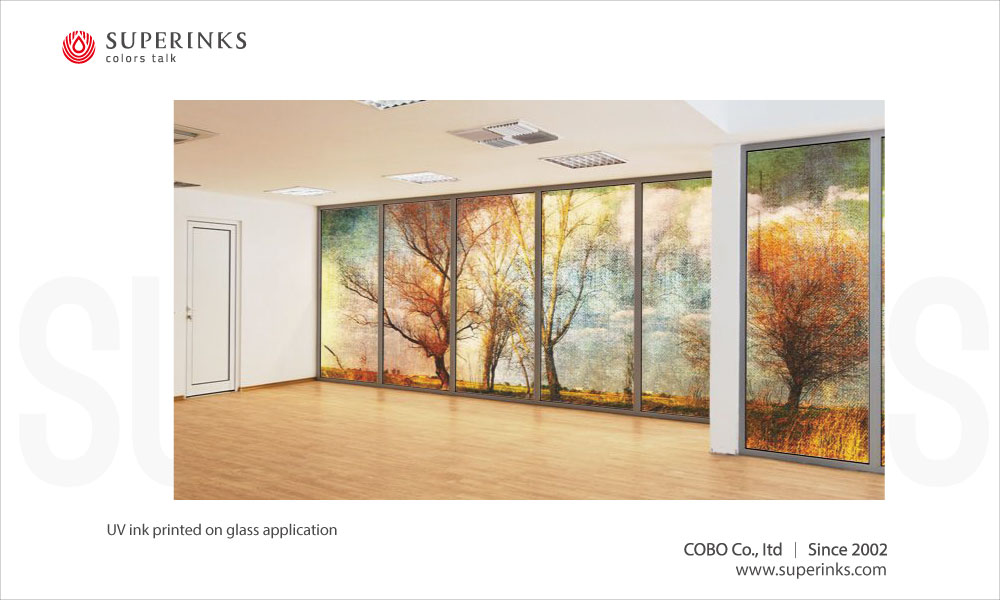 1. We want uv printed glass, to put it in shopping mall. It may meet sunlight and rain everyday, may clean by clean liquid with wet cloth.
I will evaluate like this:
Glass: Take 2 piece of glass, clean the surface of glass. One scratch with pre-coat liquid, another without. Print same design of picture. 5 minutes later, scratch by nails or coins, compare the adhesion. Obviously with pre-coating, the adhesion good, but without pre-coating, inks can easily scratch down. Scratch again at 1 hours after print, compare. Put the printed glass inside water, 5 minutes, 1 hour, 24 hours, and then scratch, to compare. After compare, you have an idea about how to use in practical application. Normally, we use mirror image printed on the inside of the mirror, then scratch and water outside will affects nothing.
2. Print metal beer bottle opener.
We will know it needs pre-coat as well. Scratch pre-coat liquid, and then print, after 24 hours later, use it open a beer bottle, to see it works or not. Spray some beers on, and see if the picture can be wiped off.
3. The left side application is more likely to works well, for the open month of the opener without printing, but the right side application may not works, the pictures are more possible peel down by bottle caps.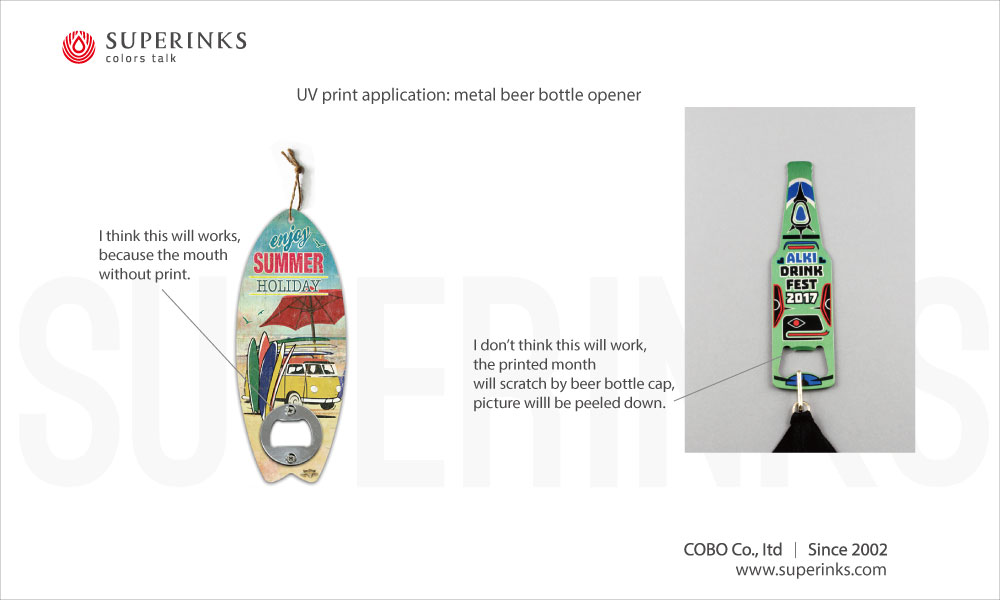 4. Ceramic
Pre-coat before print on ceramic, if it is used on washing room ceramic, please after-coat to make it water resistance and scratch resistance. UV ink printed picture is a thin sheet on substrate surface, and it can be softened by water, after softened by water, it is easily scratched down by rigid things.
If the printed ceramic put on living room, we may wipe with wet cloth now and then, uv printed ceramic tiles works well here without any special treatment. If the printed ceramic put washing room, we need evaluate water resistance and scratch resistance, we may need to do after treatment to make it works.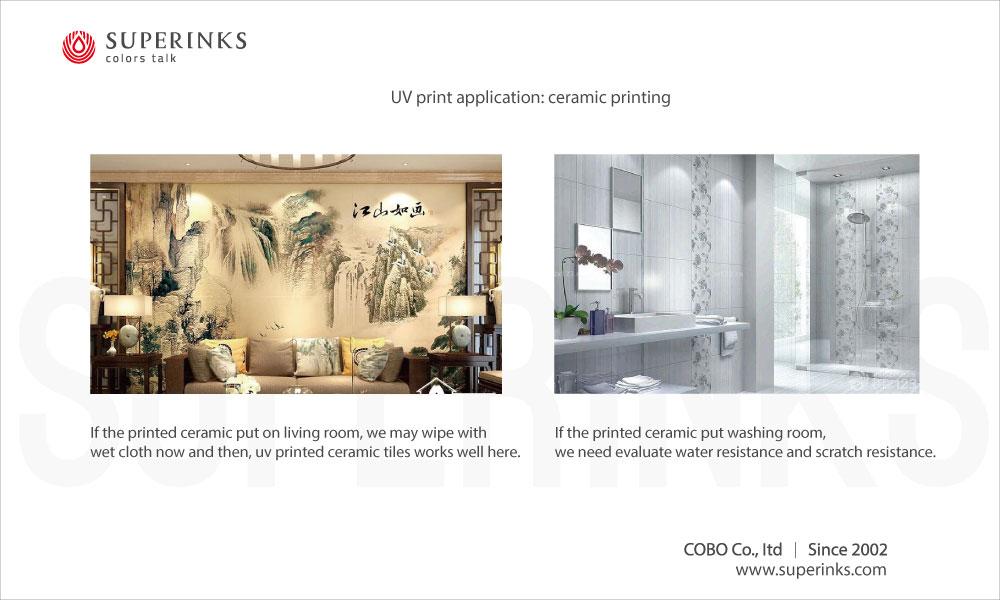 5. MDF
MDF is kind of Plywood with surface treatment. If uv ink printing application, we dont think as a MDF, we think as what surface treatment of the MDF, it means, we need to think about the connect surface of uv ink. Eg, the most popular surface treatment of MDF is melamine coating. While uv ink print on melamine coating, our experience is that, we need doing according pre-coating. Pre-coat liquid will corrode the melamine surface, to offer uv ink a suitable surface.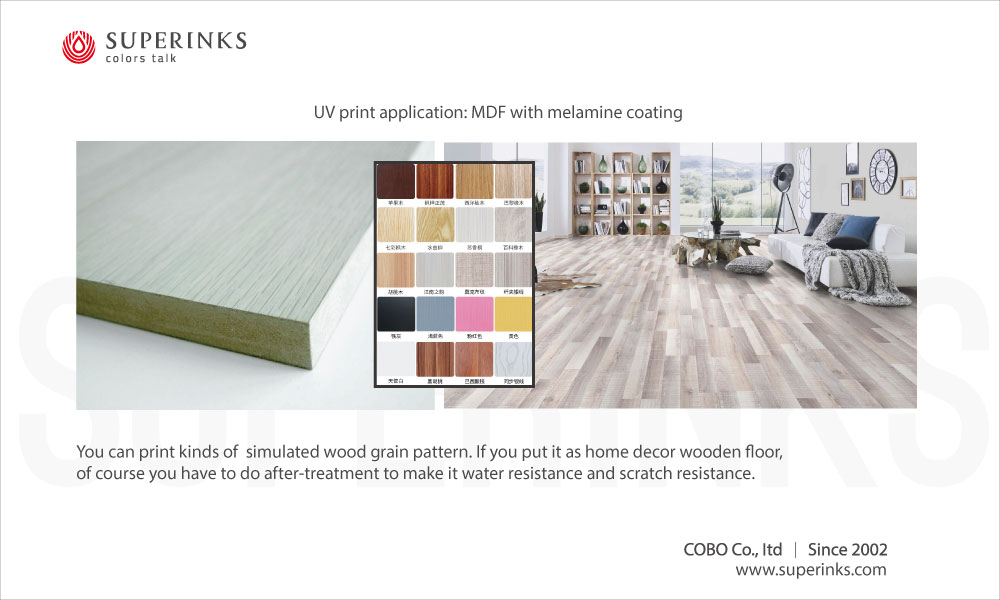 You can print kinds of simulated wood grain pattern. If you put it as home décor wooden floor, or course you have to do after treatment to make it water resistance and scratch resistance.
6. Original wood.
As our experience, original wood can direct print by hard uv ink, customer can feel free to evaluate this.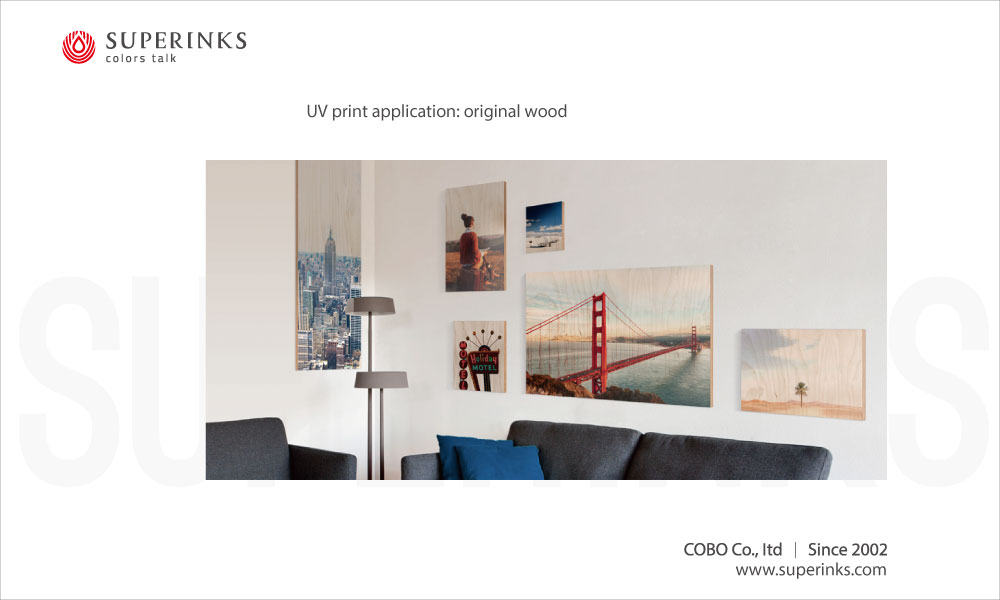 7. PVC banner (backlit, frontlit) and Vinyl
Usually will not scratch, it will request a little bit water resistance, use soft uv ink.
Indoor backlit printing is most popular application of uv printing currently. Indoor glass film printing may use washing liquid while stick on and while clean. Outdoor printing backlit need uv-light resistance and water resistance if without cover.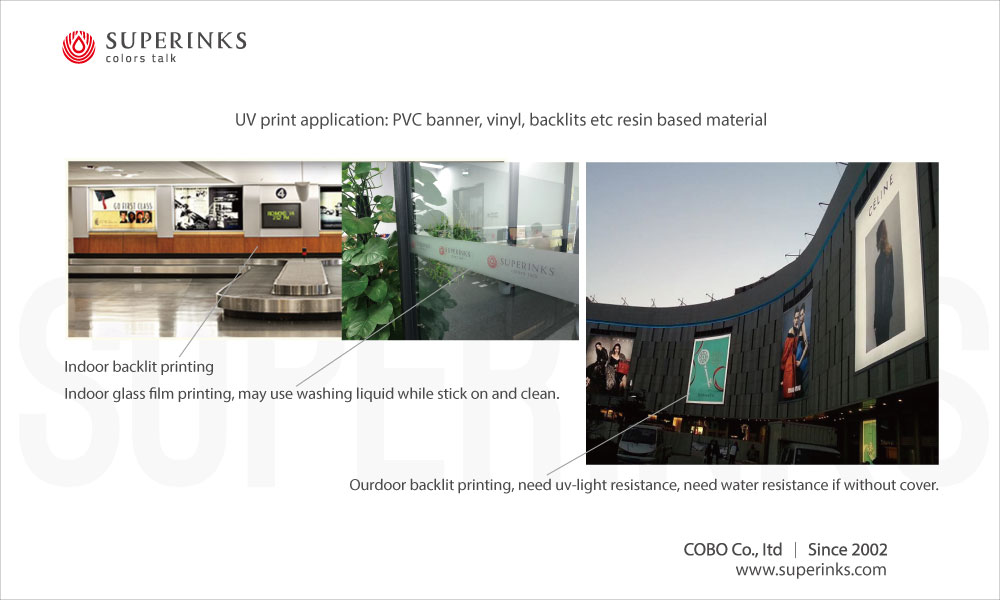 8. Leather, artificial and genuine.
We need to think about artificial leather and genuine leather as two different materials, even genuine leather, cowhide and crocodile skin are not the same. What more we have to think about is, are you print on sofa or lady bags or shoes that made by those leather material. Will it need water resistance and scratch resistance or friction resistance.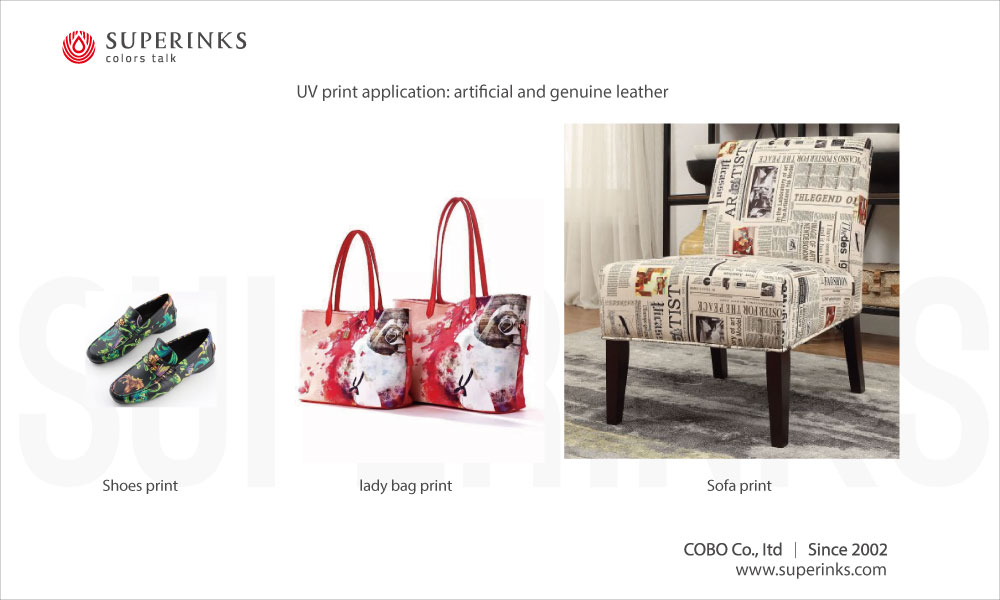 (Seven), Who is SUPERINKS? It is an uv ink manufacturer.
SUPERINKS is a ink factory since 2002 offering Chinese No.1 superior inks, of UV ink, eco solvent ink, solvent ink, sublimation ink, pigment ink, dye ink ETC for advertisement, packing, textile, label etc printing.

We know that Uv ink ricoh gen5 is the most popular head and ink in uv printing.
https://www.superinks.com/product/1um-superinks-uv-ink-middle-for-ricoh-g5
For more information, please log on our website: https://www.superinks.com/
Or liked us on Facebook: https://www.facebook.com/SuperInksBrand
And linkedin: https://www.linkedin.com/company/superinks/
Get the latest price? We'll respond as soon as possible(within 12 hours)