>
>
>
EPSON L1440-U2 Print Head Technical Introduce
EPSON L1440-U2 Print Head Technical Introduce
EPSON L1440-U2 Print Head Technical Introduce
Report date: 2020-2-7
Author: Ms. Kyna Zhou, Kyna@superinks.com, Mobile: +86-18922860945
Company: COBO Co., Ltd, website: www.superinks.com, location: Shenzhen/Zhuhai, China.
By our technologies, we feel proud to improve the experience of those who talk with colors.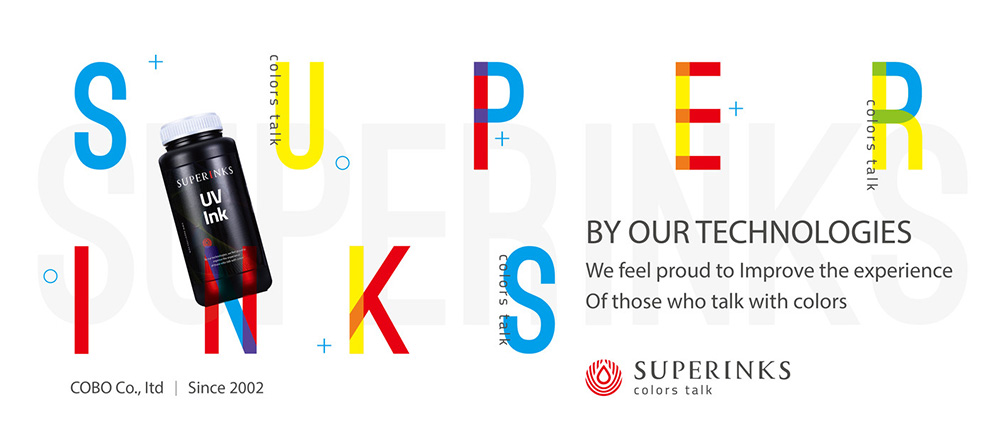 EPSON Micro-Piezoelectric Print Head Technology enjoys a very high reputation in the industry. In 2019, EPSON officially announced its entry into the domestic print head industry and released two new print head products (L1440-U2 and S3200-U1). EPSON L1440-U2 was launched at the Shanghai International Advertising Sign Technology Equipment Exhibition(APPPEXPO) on March 5th, 2019. In the whole market of UV color white color equipment, EPSON L1440-U2 occupies at least 22% of the market. This shows that Epson L1440-U2 print head is very popular in the market. With the pursuit of many manufacturers in the market, we have reason to believe that this nozzle will become a classic nozzle in the market.
At present, JHF, Taimes, Ding-In. Printingplus, Eyecolor, Loly, Human Digital, Signstar, Allwin, Gottaprinter and many other companies are gaining a lot in the market with multi-plan and multi-model large format printing equipment with L1440-U2.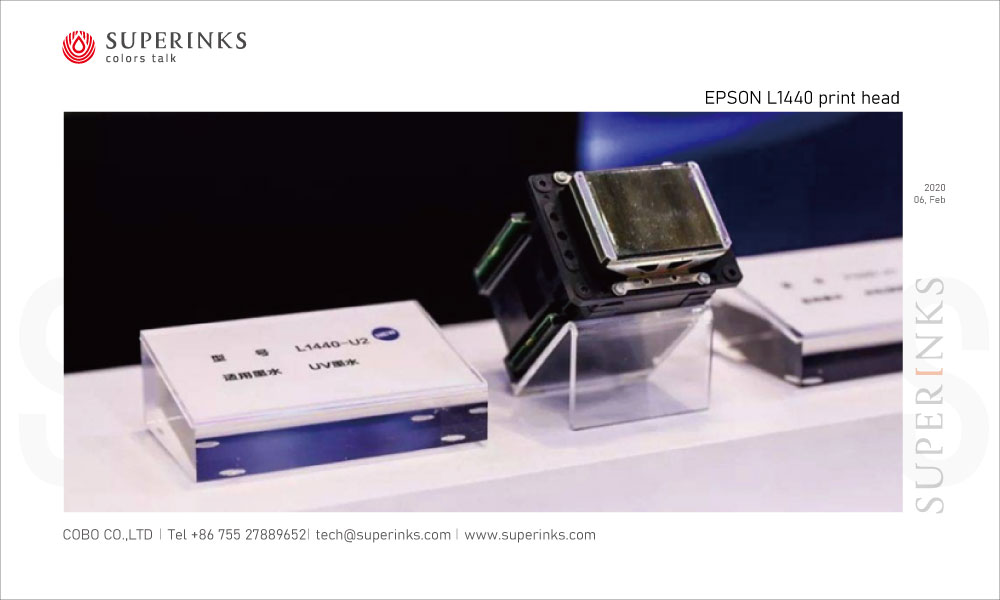 Nozzle Introduction
L1440-U2 print head with MACH technology
● High durability inkjet printing for UV inks.
● Support multi-color ink, a single print head can realize 4-color printing of 360DPI or 8-color printing of 180DPI.
● Variable ink drop technology. Can achieve high multi-grayscale printing, bring saturation and brilliant color output
● Small size, more compact after splicing, and easier plugging and unplugging of data cables.
● Supports ink cleaning and easy maintenance.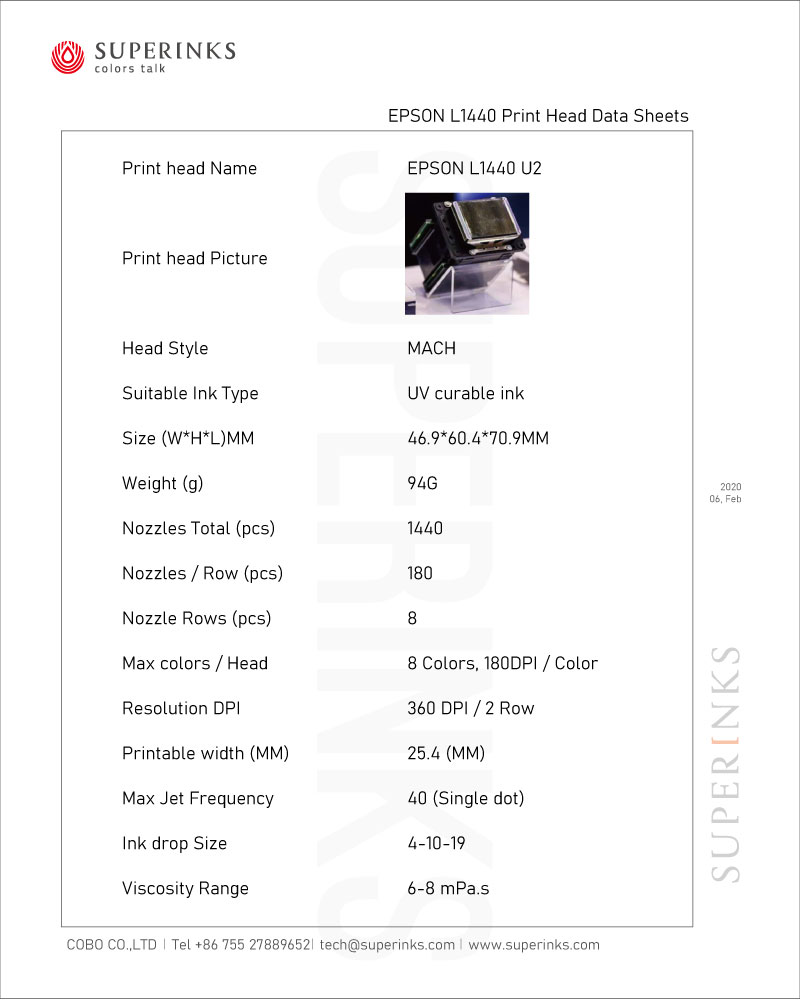 L1440-U2 Supporting Main Boards:
● Beijing BYHX Technology Co.,Ltd
● Shenzhen HosonSoft Co., Ltd.
● Royal Electronics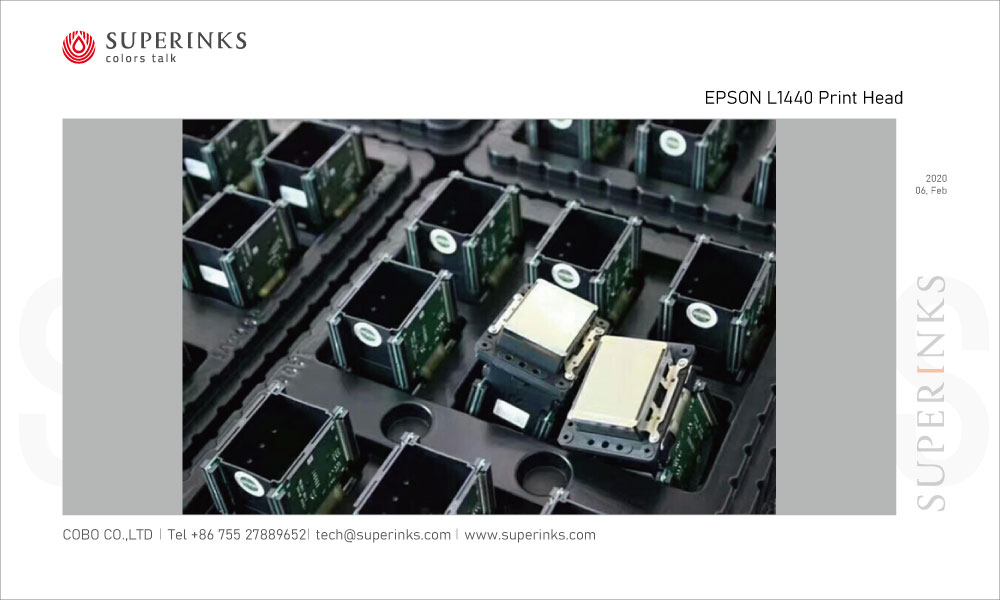 Parametric Analysis
1. Accuracy
In terms of accuracy, it often causes some misunderstandings. The accuracy in the print head parameters should be NPI, not DPI, and NPI should be the physical accuracy of the print head. NPI is the number of nozzle holes per inch of the nozzle, L1440-U2 has 180 nozzle holes in a row, and the length is 1 inch, so the accuracy should be 180NPI. When the double rows are a group, the precision should be 360NPI. Undoubtedly, if it is 8 channels, it is obviously only 180NPI. To achieve higher accuracy requires more nozzles or more pass.
DPI is the imaging accuracy, which is related to the nozzle hole distance and also the spreading factor of the ink droplet after imaging. Obviously, different ink spreading coefficients are quite different. Due to its short curing time, UV ink has a small spreading coefficient, the final imaging ink droplet diameter is small, the ink layer is thick, and the accuracy is higher, coverage is better with the same amount of ink per unit area. So the same print head uses different inks and different materials to have different imaging accuracy.
The hole pitch of L1440-U2 is: 180NPI = 0.141mm; 360NPI = 0.071mm; if we need to obtain the image quality of 1440DPI, then we need at least: 8pass and 4pass; at this time we calculate the ink volume per square meter is still insufficient, So we will definitely use large ink droplets in the grayscale to increase the coverage. Insufficient coverage cannot achieve the desired saturation.
2. Ink Passing Ability
This data is the maximum amount of ink that passes through the head in a unit of time. The capacity of L1440-U2 ink is: 1036.8ml / hour. Such a huge ink throughput can fully meet the speed requirements of various devices today. But under normal circumstances, we cannot reach this value. The reason is related to many factors: board, ink, motion mode, required accuracy, and color density per unit area all limit the ink throughput.
3. Viscosity
L1440-U2 can be regarded as medium to high viscosity. For ink, it should be relatively adaptable.
4. Ink Drop Initial Linear Velocity
The initial linear velocity of the ink drop is 7 ~ 8 m / s; this parameter determines the height of the print head from the print medium and the speed that the trolley can be designed. Of course, it is necessary to design with the ignition frequency of the nozzle.
5. Ignition Frequency
Single point 40khz, multiple points 22khz. How much you can use the ignition frequency, this has a great relationship with the ink, ink system, stepping system, frame design and materials used by various equipment manufacturers. It is clear that supporting inks with high ignition frequency and small ink droplets are very difficult to make.
6. Other data such as acid and alkali resistance, theoretical life of the print head etc. still need to maintain close communication with Epson and the specific adoption of the use scene according to the use scenario.
Market Feedback
The design where the ink income heads connection is easy to break.
The theoretical printing speed is to be verified by the market.
Summary
The Epson L1440-U2 print head can meet the high-definition image quality output requirements, and it is very stable and delicate in terms of outputting stable ink droplets and droplet shape performance. The output ink droplets are all stable at 0.01mm and 0.02mm diameter. Rarely, satellite points occur. It is excellent for color transition and stable output. It is a high-quality output, compact, print head with a single print head for colorful printing.
Common Sense of Using Epson Piezoelectric Nozzle:
1. Please be careful when using to protect the metal plate of the nozzle from collision and compression;
2. Develop good operating habits to ensure that the nozzle, scraper, and ink station are clean;
3. Select new and original nozzles to ensure excellent quality and long life;
4. Select well-known brand inks to prevent the use of inferior inks and wear nozzles;
5. If the machine is not used for a long time, it is necessary to take good care of the protective measures of the machine nozzle;
6. Different environments use different maintenance methods.
Epson L1440, DX5, S3200, Ricoh G5 Print Head Parameter Comparison
Get the latest price? We'll respond as soon as possible(within 12 hours)