>
>
>
Comparative Analysis Of Several New Print Heads
Comparative Analysis Of Several New Print Heads
Comparative Analysis Of Several New Print Heads
Article publication time: June 1, 2020
Original author: Cobetter- Yang Cheng
Release: COBO Co., Ltd. SUPERINKS, since 2002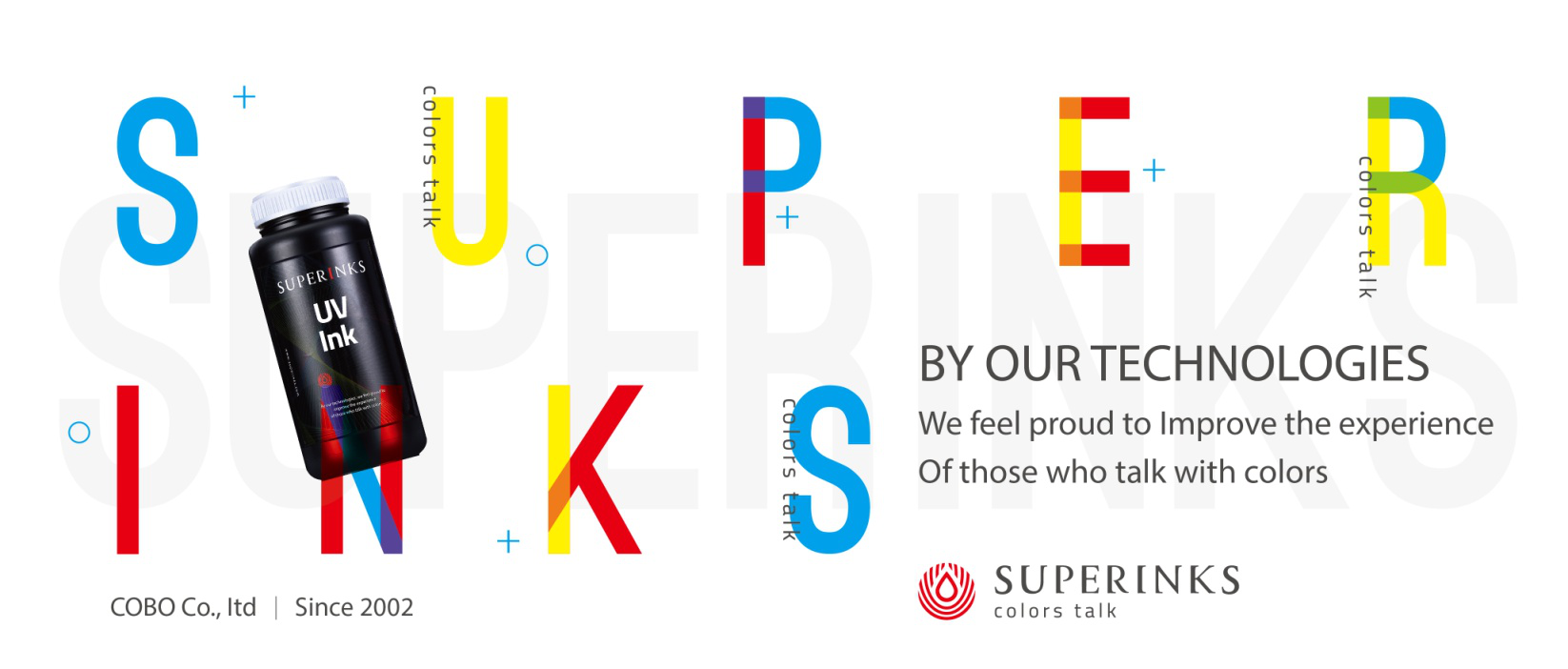 In 2020, if you cannot come to China to visit the exhibition, or the exhibition cannot be held as scheduled, please let me tell you what new print heads and machines will appear in the Chinese printer market in 2020. And what advantages do they have compared to the print heads released in 2019.
一、
Basic performance comparison of several print heads
Items

Flow(ML/Min)

Estimated value (ten thousand yuan)

Cost-effectiveness of two-year service life (yuan/ML)

Ink types application

Print Heads

Nominal

actual

Lower limit

Upper limit

Nominal low price

Nominal high price

Low actual price

High actual price

Epson S3200

55

33

1.1

2.1

200

381

333

636

Disperse ink, UV ink, Eco solvent ink

Brother 1680

57

48

1.1

1.4

192

245

229

291

DTG pigment ink, Disperse ink

Ricoh G6

57

46

1.4

1.6

245

304

280

347

UV ink

Konica 1024a

44

35

1.3

1.5

295

340

371

428

UV ink, eco solvent ink

Kyocera KJ4




57

1.8

3.5






315

614

Disperse ink, UV ink

Epson I3200 / 4720




37

0.42

0.48






303

346

Disperse ink

Toshiba CJ1




24

0.58

0.68






241

283

UV ink
Sheet 1 Comparison and analysis of cost-effectiveness of several print heads
Because some of the print heads are still in the prototype development stage, their performance has not yet reached the optimal value of the print head manufacturer, so the parameters listed in the sheet are for reference only and are only used for temporary analysis. The data does not indicate their final performance in the future.
1.

Output
A print head's maximum ink flow per minute determines its output. The following formula can be used: ( number of holes * maximum ink droplet volume (in grayscale) * Jetting-frequency * 60) to calculate the flow per minute.
2. Estimated price
As the actual price of each print head is different from the price taken by the customer, we can only give an approximate price range based on the information obtained. If the actual price is lower, the performance-to-price ratio is higher, and vice versa.
3. Two-year life cost-effectiveness
The print head can be used for more than two years, which is the most basic requirement of the user, and this value is used for comparison here. In actual use, the life of some print heads can be used for at least more than three years, then its cost-effectiveness will increase, and vice versa.
The I3200 print head (formerly known as 4720 print head) is currently a very cost-effective print head, so many equipment manufacturers use it on relatively simple and economical machines for running volume, so that most users do not use it for two years, it is calculated based on 9 months of life. To achieve a two-year lifespan, about 2.67 heads are needed. However, judging from the actual application situation, the ink supply system on many devices is still too simple, which leads to a significant reduction in the application life of this print head. If the ink supply system is made some necessary improvements, the life of this print head can be at least increased by more than 50%. For the analysis of the cost-effective of each print head, their ordering is different under four different conditions. Therefore, in order to improve the price-performance ratio, on the one hand, the print head factory should lower the price; on the other hand, the equipment factory should give full play to the performance of the print head and reach the nominal index of the print head factory.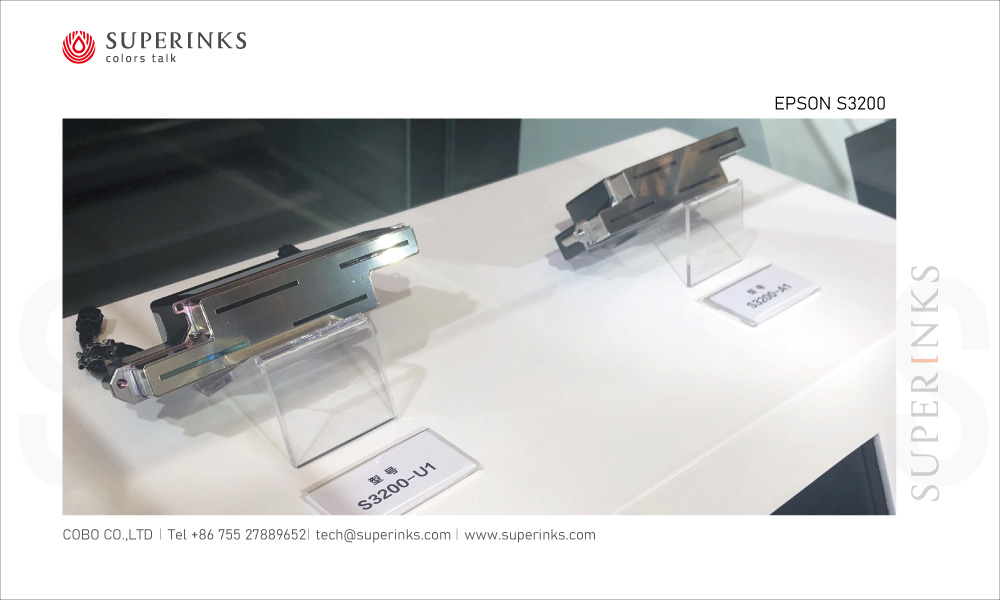 二、

Various print heads and application adaptation options
In the comparative analysis of cost-effectiveness listed in Sheet 1, it is only analyzed from the perspective of output and price, and it is not discussed where they are suitable for application. When it is necessary to subdivide various application fields, the price-performance ratio and preferred arrangement of each print head will also change.
1. Used for different device

types.
Toshiba CJ1, Brother 1680, Epson I3200, Ricoh G6, Konica 1024a and other small-sized print heads are generally used in small-format economic equipment. The large-size print heads such as S3200 and Kyocera are generally used for large format and high-speed industrial-grade equipment.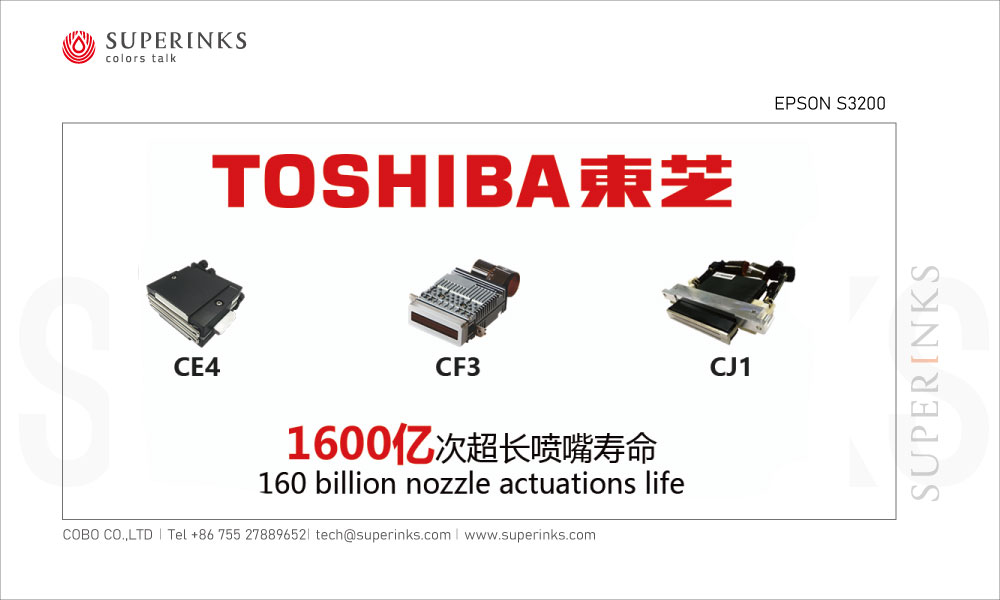 2. Different types of ink
At present, the equipment on the market is mainly based on three major types of ink: water based ink, eco solvent ink and UV ink. In general, the same type of print head has a greater advantage for water based ink, but not necessarily for oil based ink. For Water based ink, S3200, Kyocera, Brother 1680, and I3200 all have good responses. For oil based ink, Ricoh G6, Toshiba CJ1, Konica 1024a have a good reputation.
3. Ink drop range
In terms of the gray distribution of ink droplets, it is related to printing different media and using different inks. When using eco solvent ink, if the maximum grayscale ink droplet volume is less than 25 PL, the printing color block needs to use a speed lower than 4Pass; if the ink droplet is less than 5 PL, the gap between the printing surface and the media should be less than 2 mm to print high accuracy pattern (because ink droplets lose speed during flight).
The S3200 print head if it is used for textile printing, the distance between the print head and the media needs to be more than 3.5 mm. It is not recommended to use the minimum ink droplet of 3.5 PL, but it is recommended to use ink droplets of more than 5 PL, while the maximum ink droplet is used of more than 25 PL, so that you can take into account the transition of thin stems and color blocks and moire on the picture.
For print heads such as Brother 1680, Ricoh G6, and Kyocera, the minimum ink droplet volume is about 5PL, which can meet the needs of more printing media in China. But after the four-level grayscale is enabled, the maximum ink droplet volume is about 15PL. If the customer's requirements are not high, it can be used; but if the customer's requirements are high, it will not work. Only by changing the waveform to increase the maximum ink droplet volume to about 25 PL, can print good quality density color patches. If the Jetting-frequency of the print head is high, it is recommended to reduce the moving speed to obtain a larger amount of ink droplets. As the print heads listed above, the Jetting-frequency has mostly reached the maximum stable working value provided by the print head factory. Therefore, if the amount of ink drops is increased, this output will be greatly reduced, so it is not desirable.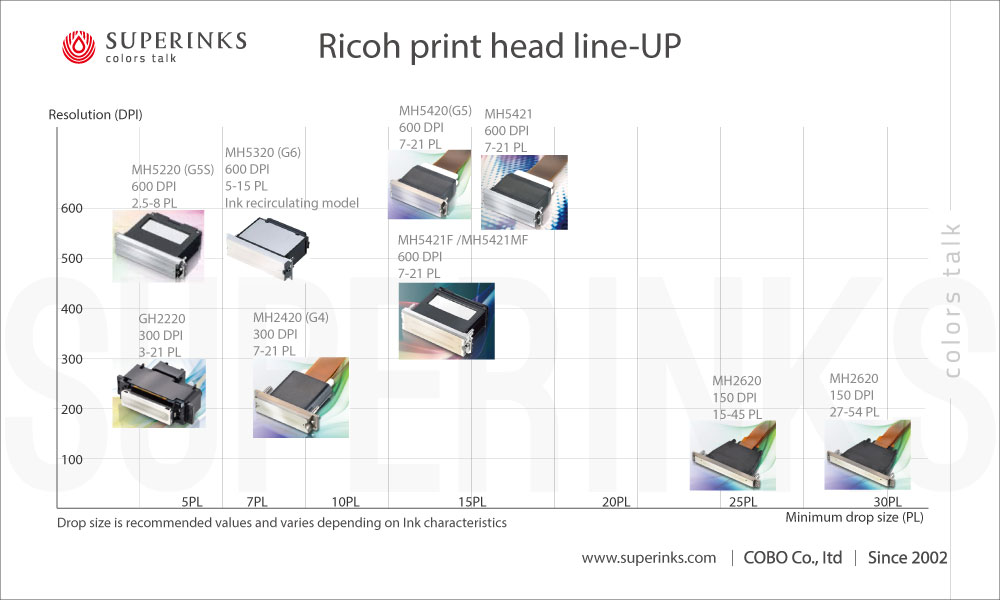 4.
Multi-heads combinations
For the scheme of multi-heads combination to increase the output: the 1-2 inch wide print heads such as Brother 1680, I3200, Ricoh G6 are not as convenient as the Kyocera, S3200 and other 4 inch wide print heads. Therefore, it is best for the machine factory to plan whether the maximum amount of print heads for 1-2 inches wide should be controlled within 8 heads. Of course, it is also possible to use 16 or 64 heads, but the print quality at this time will not be as good as the Kyocera and S3200 multi-heads. For example, the selection requirements of UV flat-bed and roll to roll are also different. The precision of flat-bed is higher and the output of roll to roll is higher. When there is too much splicing, it also affects the accuracy. At this time, it is suitable to select a wider print head.
三

、

Comprehensive cost-effectiveness
As can be seen in Sheet 1, in terms of two-year application life, the current price/performance ratio of the S3200 print head in several new print heads is not very prominent, but it still has a greater advantage than the traditional Kyocera print head. The cost performance of the I3200 print head is still the highest, but if it is based on the three-year application life, then the ratio of its actual flow rate to high price will be 270 yuan/ml, which is greater than the value of 250 yuan/ml of the brother 1680 print head. At this time, I3200 print head retreated to the second place. Because the current calculation of the I3200 print head in Sheet 1 is not the official price, it can only be used as a reference, so the advantages of these new print heads are still very obvious.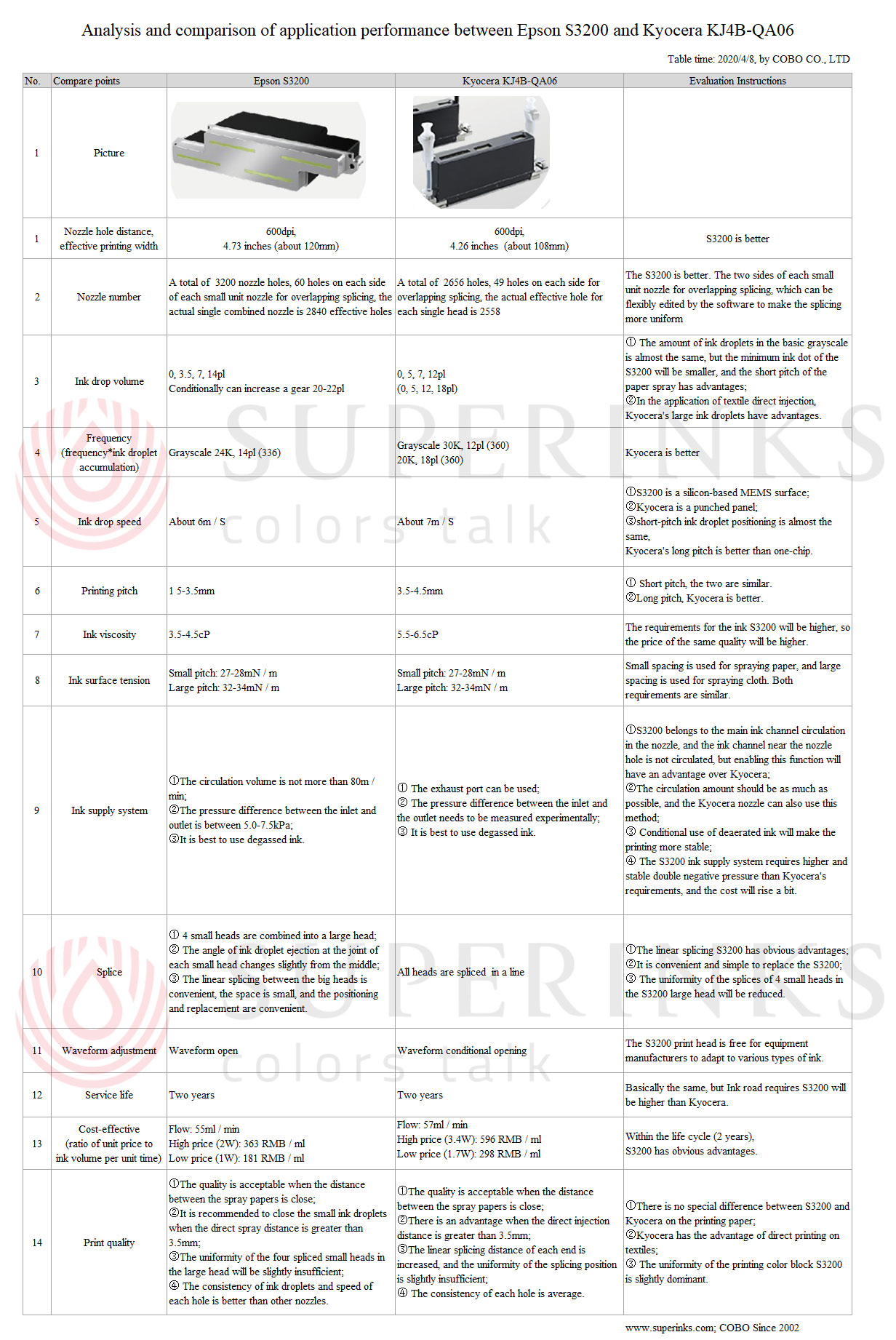 Get the latest price? We'll respond as soon as possible(within 12 hours)