This SUPERINKS reactive ink is suitable for print heads as:
Epson heads,
Kyocera heads,
Other heads.
This SUPERINKS reactive ink has the following colors:
Black, Cyan, Magenta, Yellow, Light Cyan, Light Magenta, Gray,
Red,
Blue,
clean liquid.
The main features of reactive ink digital textile printing:
High density, very bright color,
No ink flying, No ink bleeding, sharp pictures,
The quality and color of different batches are unchanged,
Has good color fade resistance,
No harm to the body.
These reactive dye inks produce vibrant colors, reproduce a wide gamut of colors, and have water resistance, light-fastness, and rub-fastness because of dyestuff molecule bonding with the fibers.
Applicable materials of reactive inks digital textile printing :
Cotton,
Hemp,
Silk,
Rayon,
Some kinds of polyester,
Some kind of wool.
This SUPERINKS reactive ink working process:
sizing,
dry,
printing,
steam,
wash,
dry.
The color fastness of reactive inkjet printing ink: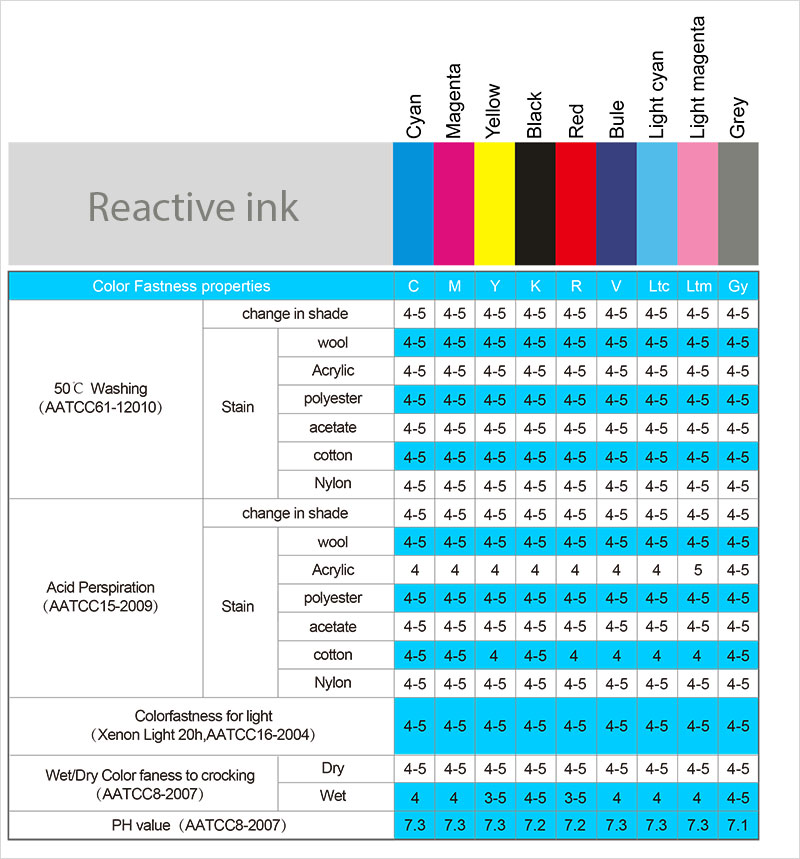 SUPERINKS' available package for reactive ink fabric printing:
Drum/Bottle pack in 25 KG,
Drum/Bottle pack in 20 KG,
Drum/Bottle pack in 5 KG,
Drum/Bottle pack in 1 KG,
A customized package is available.
Instructions for use of digital reactive dye inks:
Operating temperature: 20-30℃, Operating humidity: 40-60%.
Shake the ink well before putting it on the machine; It will be best if you can use it up within 1 week after opening.
Before using our products for the first time, please empty the ink cartridges, ink circuits, and dampers. If possible, please clean the ink circuit system and replace it with a new damper.
It's very important to make an ICC profile to get brilliant colors, if need to make an ICC profile, contact us, we will help.
What's the difference between DTF ink and DTG ink, reactive ink?
All those 3 inks are mainly for cotton fabric. Each ink has a different process. Reactive ink can get the best color, and best resistance, but need a more complex process. More used for high-quality level printing.
DTG pigment ink printing for T-shirts is an old technology but has not had a big market share for years. DTF technology almost solved all problems that DTG has. It solved not a bright color, not good wash resistance. Though the hand feel of DTF is a little bit more, it can improve step by step.
T-shirt printing is a huge market, especially pure cotton, especially black pure cotton T-shirts (Before, no technology solved well how to print a soft and bright pure cotton black T-shirt).
Transport and storage conditions:
Avoid direct light, and storage temperature at 15-30℃; after opening the seal of the package, please avoid dust and other sundries going into ink composition.
The goods are identified as Non-dangerous goods in accordance with IMO, RID/ADR, IMDG, ICAO, IATA.
MSDS available.
Digital printing materials, which fabric is best for digital printing?
SUPERINKS factory introduce video: