The sublimation ink for Epson is suitable for printers:
For Epson T741X, SC F6000, SC F6070, SC F6080, SC F6200, SC F6270, SC F6280, SC F 7000, SC F 7070, SC F7080, SC F7100, SC F7170, SC F7180, SC F7200, SC F7270, SC F7280, SC F9200, SC F9270, SC F9280, SC F9470, SC F 10070, SC F3070, SC F2100, SC F570, SC F170.
For Mimaki SB54, Mimaki JV150 series, Mimaki JV300 series, Mimaki JV33 series, Mimaki JV33-160-BS, Mimaki JV33-261-BS, Mimaki CJV30-100BS, Mimaki CJV30-161BS.
Roland Texart XT 640, Roland Texart RT 640.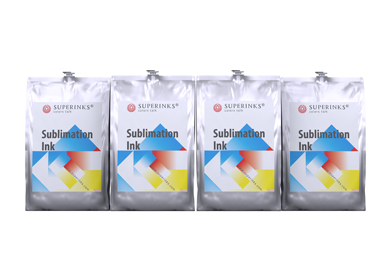 What colors do we have for it?
Black, Cyan, Magenta, Yellow, Light Cyan, Light Magenta, Light Black, Light Light Black,
Fluorescent yellow, Fluorescent red,
Clean liquid.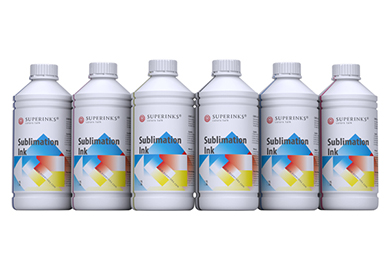 Is all sublimation ink the same? Is Epson compatible with sublimation ink?
You need special ink for sublimation. Not all sublimation ink is the same, there is a different density for different types of sublimation ink, and in different models, different suppliers' ink has different color tones and different stability. You can not use any kind of sublimation ink, you have to use match ink. Tell the supplier what printer and head you use, what process of printing you do, what kind of fabric you do, and what application, and then you can get a matching ink. Epson is compatible with sublimation ink. Also Roland and Mimaki.
Hp stitch s500 is sublimation ink printing too, but its head uses heat bubble technology, which different system from Japanese printers and Chinese printers.
What is the difference between sublimation ink and regular ink?
Can you switch from regular ink to sublimation ink?
Sublimation ink is a kind of water-based safe ink that only shows its beautiful color after heat, before heat the color of the ink is dark and old. This kind of ink will have a chemical reaction while heating from paper to fabric, after the chemical reaction, the color gets bright and firmly fixed on the fabric without hand feel. Normal ink doesn't meet that chemical reaction.
You can switch a printer from regular ink to sublimation ink, as long as totally cleans the regular ink, and the printer and head match sublimation ink needs.
Sublimation ink is a kind of special inkjet ink, it is different from office use desktop water-based dye ink.
The features:
The black ink is ultra-high concentration without a color cast, CMY colors are bright and saturated.
No ink flying, no ink bleeding, sharpness, and no mutual penetration.
Stable formula, particles smaller than 0.3 μm, very smooth, friendly to the print head.
Smoke-free formula, high transfer rate, environmental protection, and economy.
Long shelf life, 12 months in bottle, and longer in the bag.
Good resistance to dry and wet rubbing and good light resistance.
According to the SGS report, the ink does not contain harmful materials and is environmentally friendly and harmless.
Applicable materials:
Textile as: polyester cloth, nylon cloth;
Hard media such as: glass, crystal, ceramic, metal, wood, etc.

The printing condition:
Temperature: 20-30℃. If beyond the temperature range, please use a heater or air conditioner.
Humidity: 40-60%.
What kind of package we can offer?
Drum/Bottle pack in 25 KG,
Drum/Bottle pack in 20 KG,
Drum/Bottle pack in 5 KG,
Bag pack in 2 KG,
Drum/Bottle pack in 1 KG,
Bag pack in 1 KG,
Bag in the cartridge in 0.440 KG,
A customized package is available.
What is the process of sublimation?
How do I start printing in sublimation?
How does dye sublimation work step by step?
Installed rolled up heat transfer paper on the printer,
Printing on the heat transfer paper,
Put the printed paper on the surface of blank polyester cloth,
heat while pressing them,
Take away the waste paper, and leave printed cloth.
Precautions:
It is only suitable for fabrics with more than 80% chemical fiber.
Pay attention to the shelf life of the ink before use. The expired ink is likely to precipitate and block the print head.
Dye sublimation ink is colored by heating, and the color before heating is not bright.
The temperature, pressure, and duration of the use process, as well as the fabric, will affect the vividness and colorfastness of the color.
The ink colors of different manufacturers will be different. If the color requirements are strict, an ICC curve is required.
Instructions or manuals:
Shake the ink well before putting it on the machine; It will be best if you can use it up within 1 week after opening.
Before using our products for the first time, please empty the ink cartridges, ink circuits, and dampers. If possible, please clean the ink circuit system and replace it with a new damper.
It's very important to make an ICC profile to get brilliant colors, if need to make an ICC profile, contact us, we will help.
Transport and storage conditions:
Avoid direct light, and storage temperature at 15-30℃; after opening the seal of the package, please avoid dust and other sundries going into ink composition.
The goods are identified as Non-dangerous goods in accordance with IMO, RID/ADR, IMDG, ICAO, and IATA.
MSDS available.
What fabrics can use digital print on?
How many types of digital printing are there on fabric?
SUPERINKS factory introduce video: